June 2020
Climate of Change Exhibition
Milford Galleries Dunedin
27 June - 21 July 2020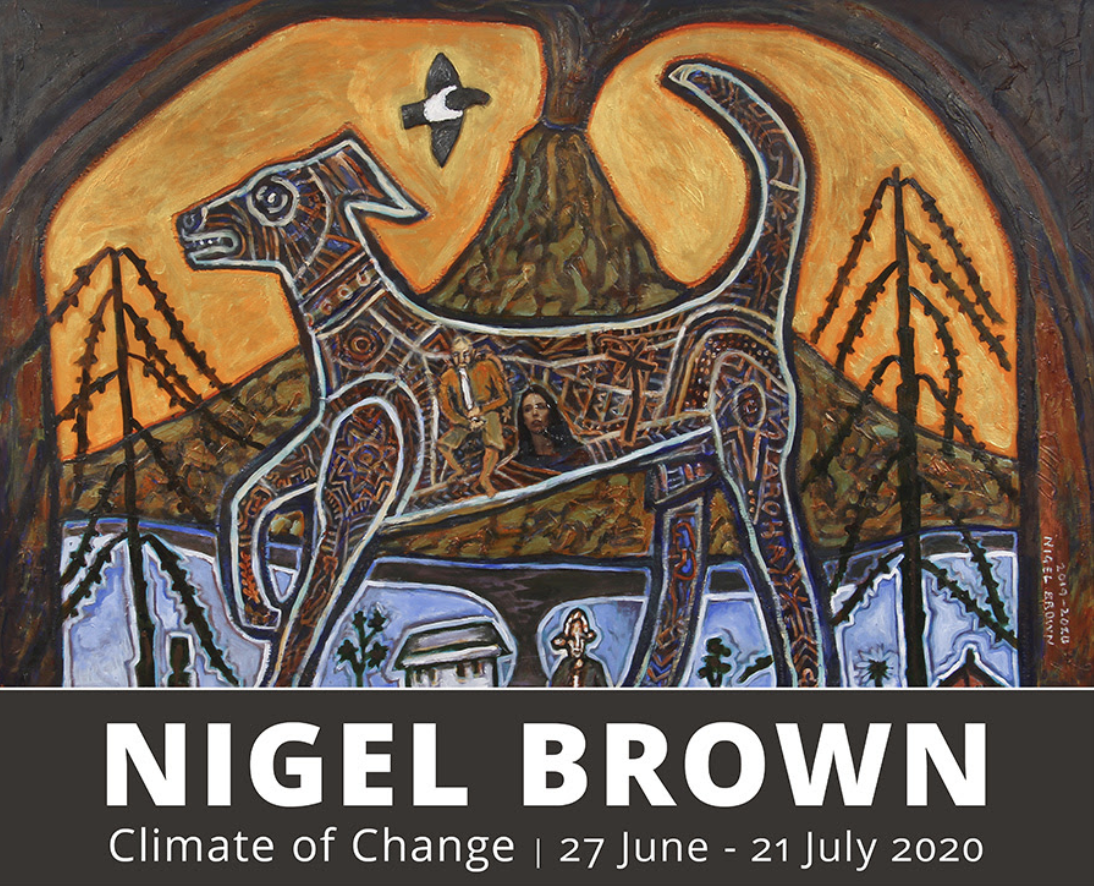 April 2020
Covid
The Covid-19 lockdown has meant a disruption to my Climate of Change work but I have been able to work on new work in a make shift studio at home.
Earlier in the year an interview in Art NZ 173 complete with cover photo was good coverage. Last year in Landfall 238 other works of mine featured. Much work was done last year with Sue and I gifting work to the Sarjeant Gallery in Whanganui and to the Eastern Southland Gallery in Gore. Gore now has a sizeable holding including a table decorated with our wood cut blocks.
In this year of unprecedented world crisis a paint brush and a clean white canvas seem like a sort of simple comfort. I am personally shocked by the virus crisis and like a lot of people find myself discovering new ways of doing things.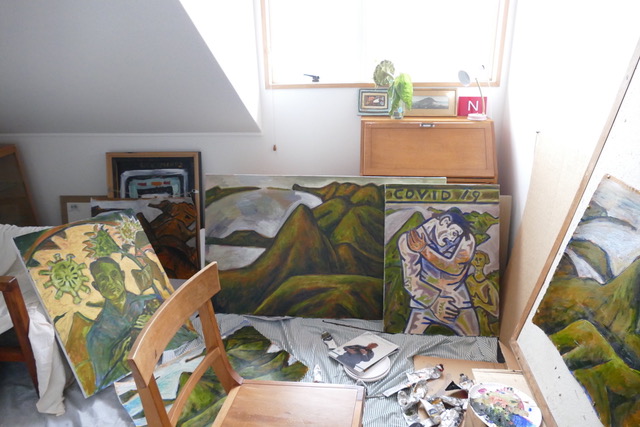 July 2019
Plastic Ocean
Like many people now I'm very aware of human pollution of the planet. Even as an artist you produce much debris with tubes and rags and plastic wrapping. Acrylics are polymers and oils with turps are toxic. You are basically embedding chemicals in a surface. With a painting such as this I was enjoying the glitter trash found in craft and dress shops. To pollute your fine art ideals and standards was both the point of the work and also the irony. The dog was inspired by our black dog. This is how he looks clipped but with time he turns into a chaotic fur ball. Being a mix of toy poodle and jack russell is a contributing factor!
In our white gallery spaces there is a manufactured sterility at odds with nature and dirt and organisms. This often extends to our houses and cars and technology. Maybe 'sterility' is the wrong word but it's about clean lines and rigidity. Producing paintings is a balancing act between order and chaos and you can say the white walls set the work off. 
Climate change seems to bring into question all the frantic ordering, developed space and mass conformity born out of ceaseless human expansion.
One function of art for me is to strongly remind the viewer that this art that I do is expressively handmade, organic and individual.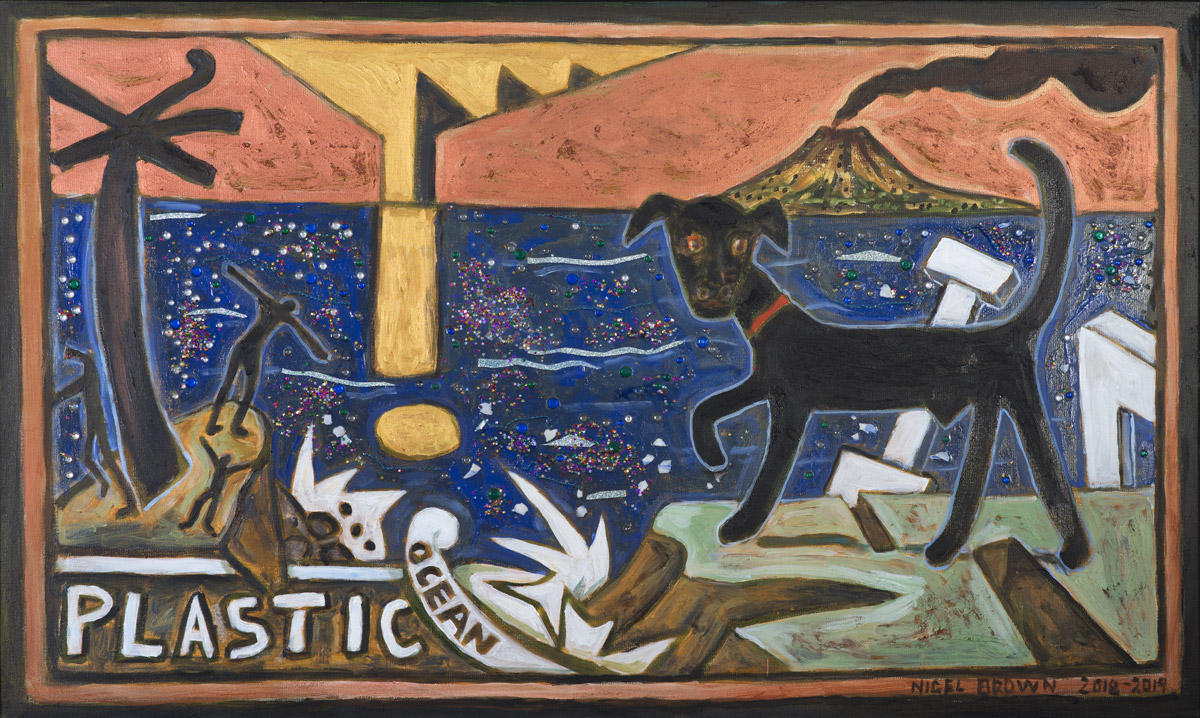 May 2019
A Purpose For Art
After a big shift of studios, I am this year in a new space with better light and warmth and free of the industrial dust of my last situation. It takes some time to get racks and files in order and for this a very big thank you to Josh Thomas. His ability to visualise and put in place the various studio set ups was really great.

In my studio I am working on a mixture of works under the banner of a 'Climate of Change'. You may say why not 'Climate Change' but in a way the long shadow of that gathering crisis is too prevalent to cope with on a daily basis and to deal with it a form of symbolism is required. I have found emblems in birds and dogs, volcanoes, erosion and see saws. This allows me to tell a story rather than present a lecture. Art requires you to consider opposites and negatives. Art also needs you to be expansive, mysterious, inspirational and open ended. In its most passive form it is simply a diversion with a lot of tricks and mirrors. An artist attuned to issues can't help but be purpose driven and there is an argument to push climate change totally to the fore. In ancient times we lived with a fear of change, fear of the weather, fear of food availability and crop failure.  Now with capitalist consumerism we may feel immune from such anxieties. It may appear that every other life form be it polar bear, microbe, rat or insect should be in fear of us in our developmental expansion but that's a conceit. Words like 'consequence' and 'pay back' come to mind. Art can seek a raw connection and be both a witness and an activist.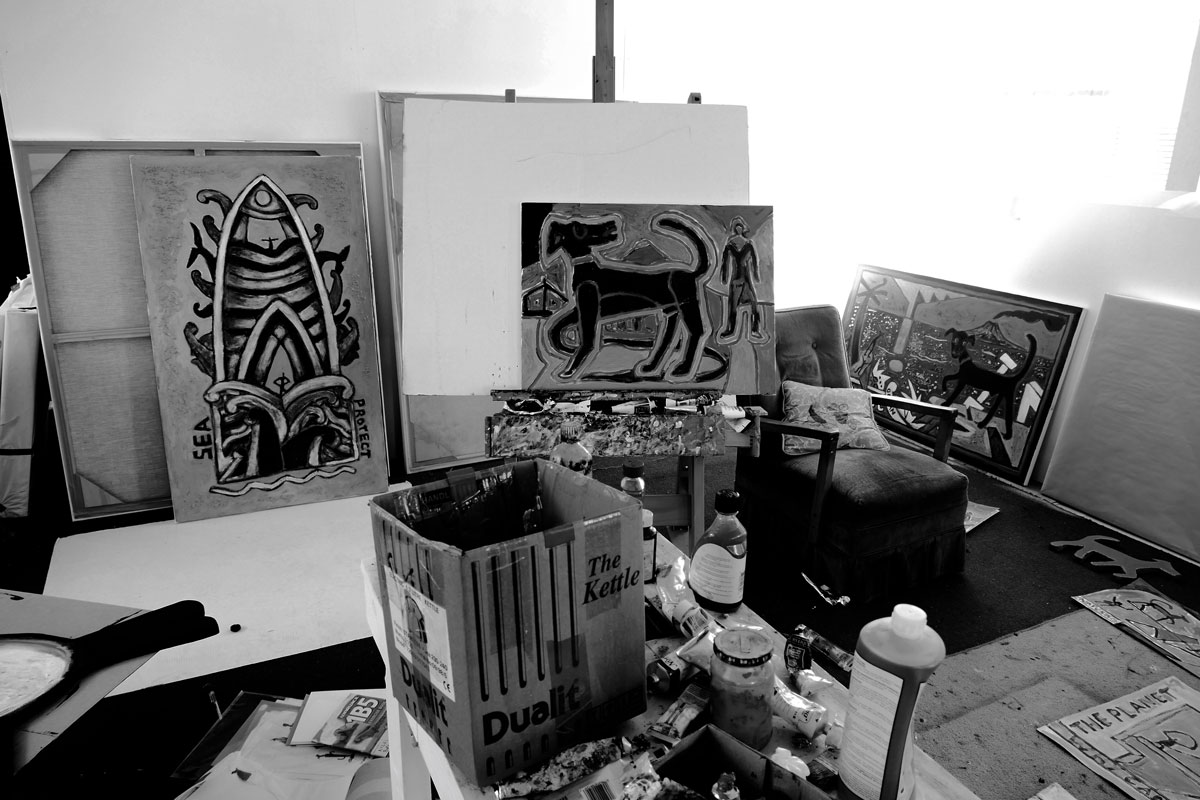 September 2018
Shifts and Changes
It's been quite disruptive shifting house in the last month and soon I will be shifting studio. All this can be stimulating and also a time to pause and reflect. Space and location changes, with shifting, help creativity as much as they may break threads in thinking.
While 'Concerning Nurture' was not fully understood as a body of work by some it was a major undertaking in terms of expressing a human conservation ethic.  It was off track to equate it with good keen men or Pointillism.  Even my late father the poet R.F. Brown could not be done justice by comparison with Barry Crump and I feel the same.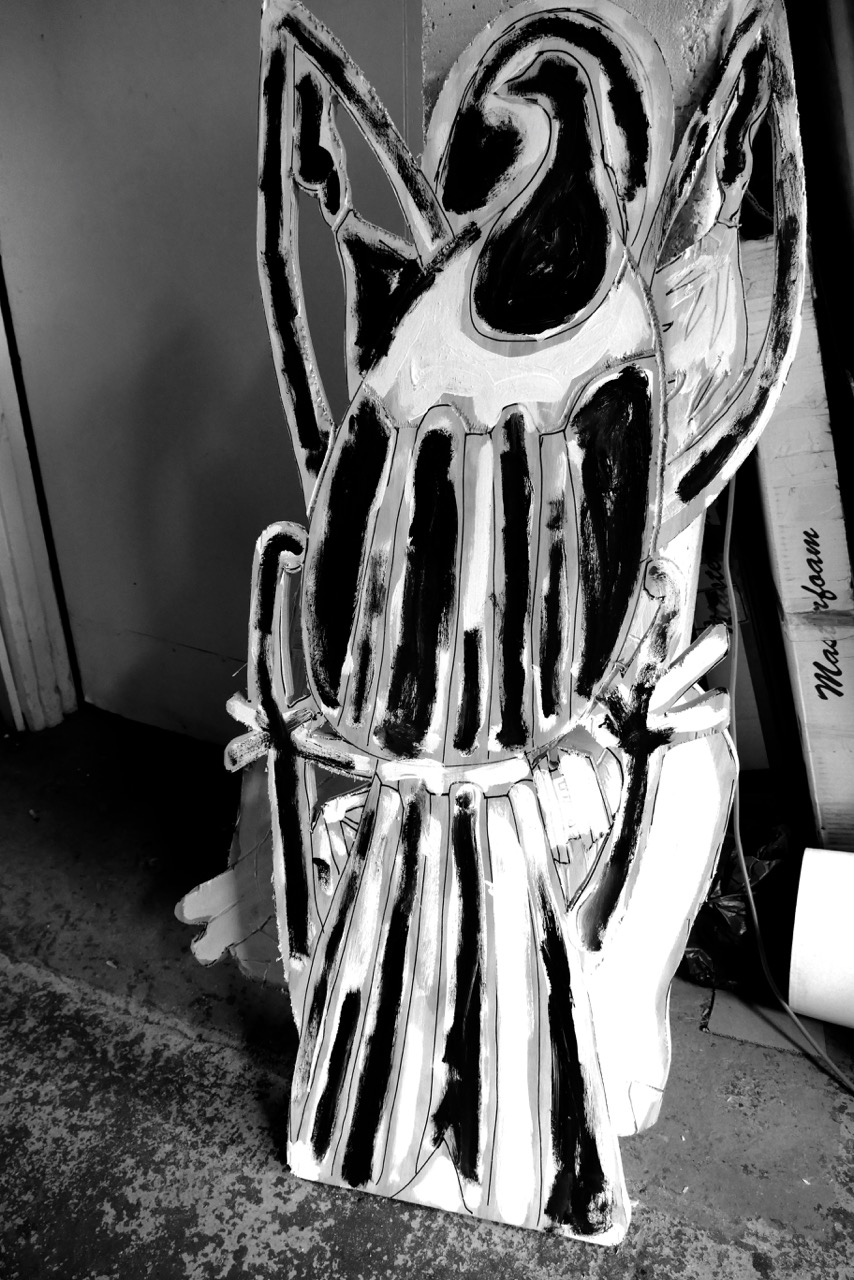 The insistence in describing my dots as Pointillism is inaccurate.  I raise this again but there seems a mind set standing in the way here. My intuitive approach has nothing in common with the scientific arrangement of colour dots which is what Pointillism proper was all about. In contrast while I have been inspired by Aborigine painting and indeed have owned a bark painting since the 1970's as well as a Sepik storyboard these have often raised more questions than answers for me as an artist. In a similar way most art of the indigenous Pacific area challenges the Western traditions and realism as a way of seeing or not seeing.  It is also likely indigenous art challenges our consumer capitalist system and relationship with nature  although it risks being consumed accordingly.
This last month has seen the release of my son in law Dudley Benson's 'Zealandia' music album and he talks about decolonising ourselves.  How far we go or can go is a moot point and where our tribal self resides is another. It becomes more urgent in a climate change world with collapsing refence points, head in the sand reactions and polluted certainties. As I shape a piece of wood even a crushed layered plywood one I know I am in contact with a tree and that energy to adapt and push upwards. Escape from the rectangle seems possible.
February 2018
Concerning Nurture
The fine essay for "Concerning Nurture" written by Angela Middleton can be downloaded here.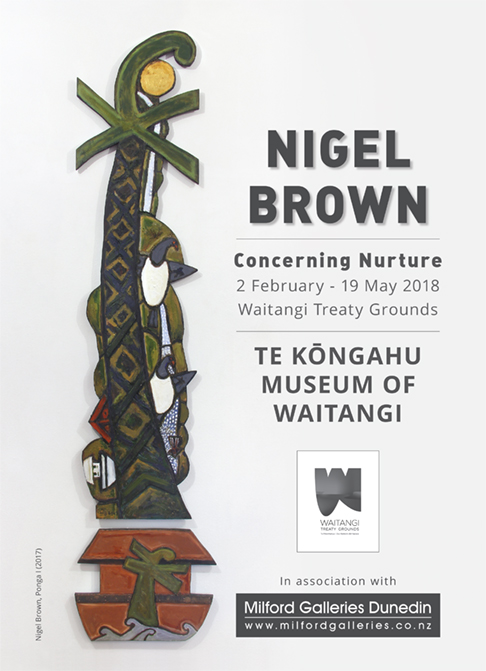 The opening of "Concerning Nurture" on the second of February 2018 at Te Kōngahu Museum of Waitangi was a particularly satisfying event for both myself, whanau and friends. The show was wonderfully hung and organised with special thanks to Caitlin. Also special thanks to Vanessa and Glenn of Milford Galleries Dunedin.
To have a Prime Minister particularly one we are most enthusiastic about in the person of Jacinda Arden actually open it was quite extraordinary. To hear her talk of purchasing a Muka lithograph of mine with two weeks of her fish and chip shop wage when young and being attracted by its words about life and social concern was a delight. Also present were some MPs from the Coalition facing the challenge that Waitingi day can present. I think our granddaughters Vita and Poppy will remember the day as much as we all will.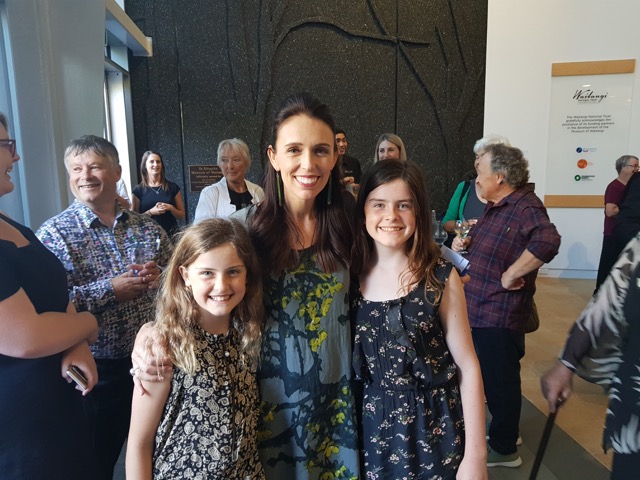 Dudley Benson sang an acapella version of his song 'Rutu' from his forthcoming album Zealandia.
Next day thanks to Kelvin Davis we attended Te Karetu Marae which is the home of Ngati Manu. This was very important for Sue who is Ngati Manu and we enjoyed the warmth and dignity of the occasion. Sue has now been welcomed onto her home marae.
We also enjoyed seeing Jacinda and other labour party MPs of Ngati Manu descent welcomed onto the marae later that morning.
A few days of sun and swims at Pahia completed a very memorable experience.
September 2017
An Association With Poetry
At present I have been working in the Press Room at Otago University with printer John Holmes on a book of poems by David Eggelton. I'm providing the wood cuts. The aim is an edition of a hundred bound copies. Title 'Snap'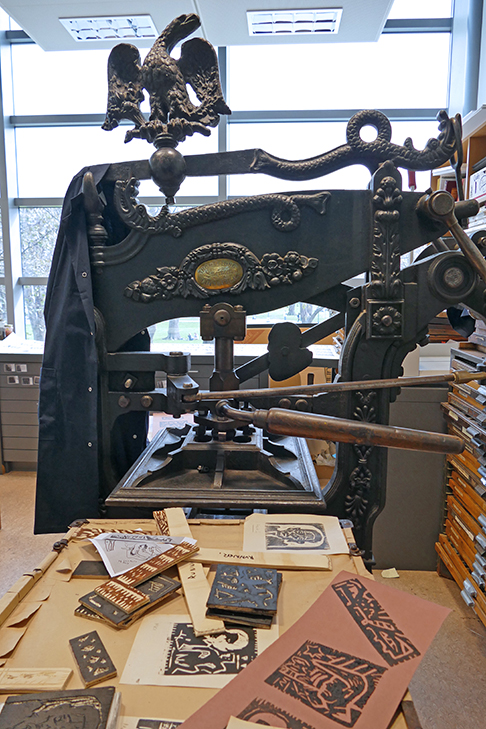 When I was emerging in the seventies there was for me not only my father's poetry, but also Baxter's but Modernism was in full stride and the literary and illustrational were seen as a bit suspect. These days painting is once more open to all the possibilities.
Over the years I've illustrated quite a bit of poetry and its been mentally rewarding if nothing else. The list includes R.F.Brown, James K Baxter, Brian Gregory, Denys Trussell, Glenn Colqhoun, Riemke Ensing, Alistair Patterson, Bill Millet, Bill Manhire, Chris Orsman, Coleridge, Blake and Shakespeare. I have always written my own poetry and used text borders in my paintings. The principal monograph on my early work was by poet Gregory O' Brien. Denys Trussell has written on my work also.
Last year I got a lot of inspiration out of illustrating 'Manifesto Aotearoa' a collection of poets exploring social issues. The word 'illustrating' clashes with some of my modernist leanings but I have long realised I am a mix of approaches. What never changes in my paintings is an affinity with poets and poetry.
I am now fortunate to live in a designated City of Literature. So a toast to poetry with its great complexities and rewards and the flow of ideas into other art forms.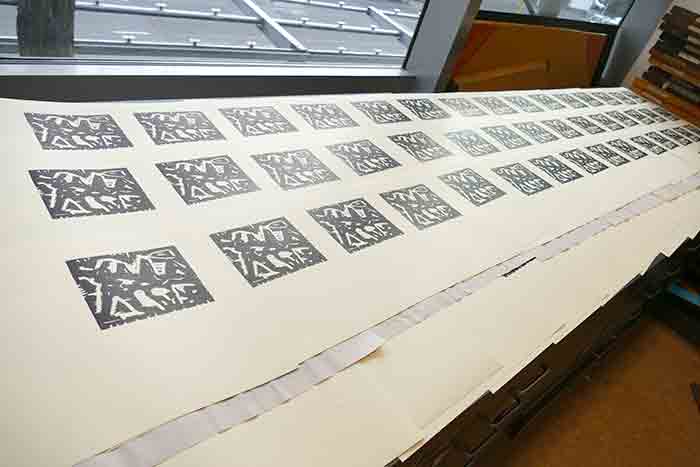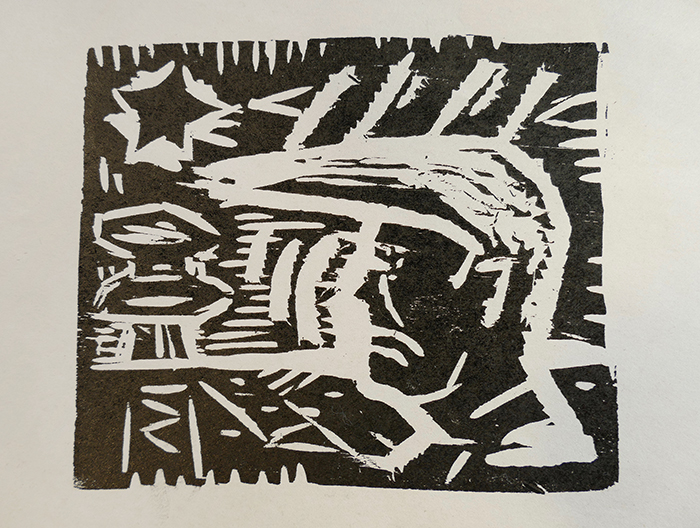 July 2017
Peace Interview
An interview is now online done through the University of Otago called Public Conversation: Nigel Brown Peace Artist, with Professor Kevin Clements.This was a welcome opportunity to bring out some peace works and explore issues and background in relation to peace.It's never more important, some dialogue, as we struggle with a world that often fails to learn and promotes militarism in a reckless and foolish manner.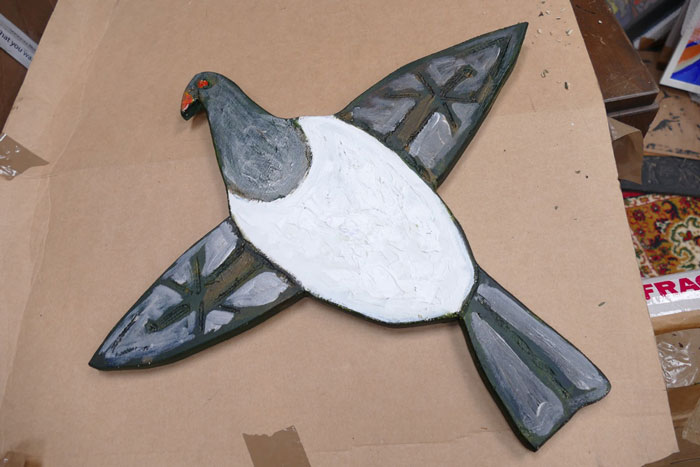 May 2017
Reflections
Been a busy time since the Provocations show in 2016 at Milford gallery in Dunedin.
The touring show I am /we are which was initiated by Timaru Aigantighe gallery with Jess Mio as curator. It has been shown at four venues, Timaru Aigantighe Gallery, Napier MTG Hawke's Bay, Alexandra's Southern stories and Forrester Gallery Oamaru with good sized audiences at my talks. The next venue will be in the North Island. Read the full essay by author and Professor at the University of Otago's Department of History, Erik Olssen.
This year I've had dealer shows at The Diversion gallery in Picton, who produced a particularly nice catalogue with my notes on my organic thinking which is what is driving me at the moment.
I also had a show at Milford Queenstown which particularly featured my bird paintings in 'Bird in the hand'. My bird paintings are primarily about relating to nature rather than just the specimen aspect.
I see this as more urgent with climate change and a greater awareness and empathy.
I have work in Tamatea which is a travelling exhibition initiated by The Department of Conservation after trips by artists to Dusky Sound.
The NZ Medallion group of which I'm a member have a new display case coming soon to Artis gallery, Auckland after a great touring show.
I did the cover and illustrations for a book of 101 political poems, Manifesto Aotearoa, published this year by Otago University Press. It was inspiring to feel the passion and energy in such a wide range of poets.They seem to be popping out from nowhere. Perhaps its a side effect of the disconcerting times we live in.
I have just done a filmed interview with Kevin Clements about my peace works in conjunction with Otago university and Department of Peace and Conflict. With all the war remembrance that's gone on in recent years its important I feel to not forget protest history, the ongoing nuclear threat and peace as an ideal. The interview will be available as a podcast soon.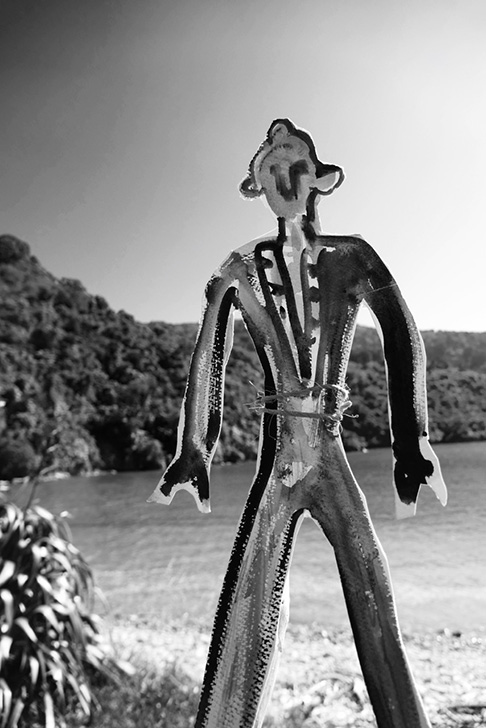 October 2016
Upcoming shows
Now more settled, I have been busy on various bird paintings for showing next year as well as finishing large works on paper. The show Tamatea, Art and Conservation which includes a couple of my works opens at Bowen House Wellington on the 9th of November and at Southland museum on the 16th of December.
A couple of illustration projects to do with poets have been successfully completed this year and will appear eventually. I find what poetry can do is often what i seek in my painting.
The touring show of the NZ Medallion group ,which includes my work, has been wonderfully organised and hosted. The new base gallery for the group is Artis in Auckland.
My touring painting show I am/ We are has been on in Napier this year and will be at Ashburton public gallery before Christmas. In February 2017 it will be at Central Stories, Alexander. I am speaking at each venue.
My next dealer show is Organic Thinking at The Diversion gallery , Picton in February, 2017.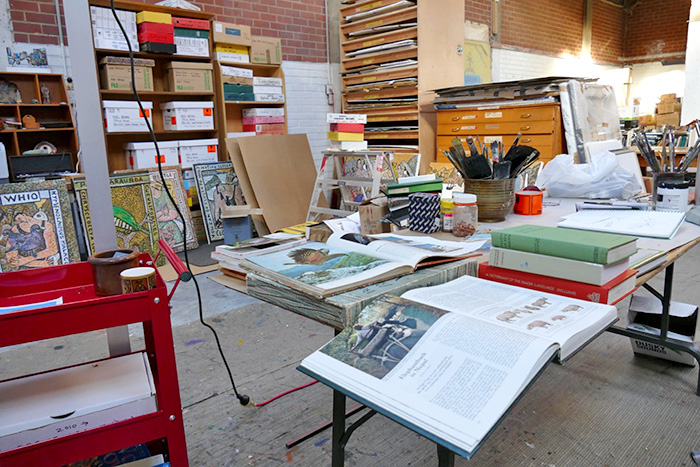 June 2016
Shift to Dunedin
We have been shifted to Dunedin for over three months after an enormous move from Cosy Nook. Our two-storey house dates back to 1910 and is in Roslyn by the green belt with plenty of kereru, a laurel tree and a good many other trees surrounding it. There is an elaborate staircase and kauri timber given an oak look.
All is very different in Dunedin from the rural scene at Cosy Nook by wild Foveaux Strait. We daily encounter many more people, have access to better films and libraries, concerts and the university town vitality. Everything is conveniently close by. The sea which we came to see as a little too powerful down South is tucked far well away from us. We miss our cattle, the rocks and islands and the space for bonfires. We don't miss looking after 16 acres.
My warehouse studio In Dunedin is in an industrial area and has a roller door, good light from sky lights, and is not far from the inner harbour.
My touring I am /We are show is now at MTG in Napier and had a good crowd at its opening and my talk. It goes on to a range of venues nationwide after being initiated in Timaru.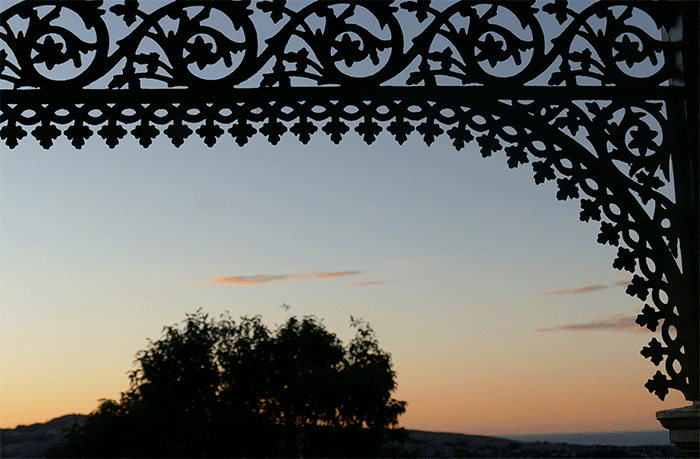 March 2016
Provocations
Currently at Milford Galleries Dunedin – PROVOCATIONS – 11th March-6th April.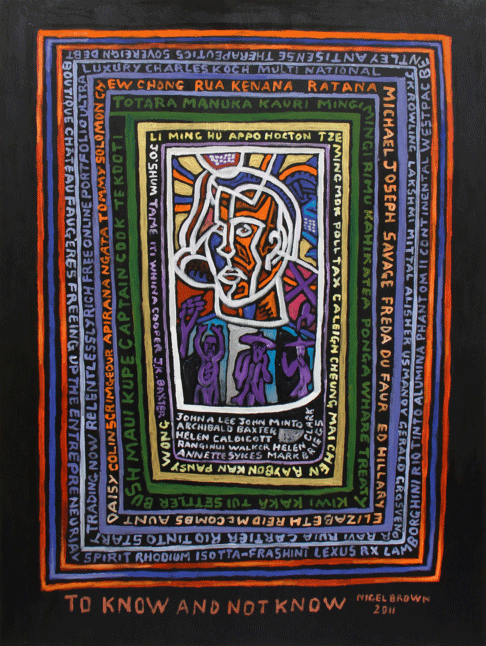 "The works now hung and curated I first saw backstage at Milford Galleries Dunedin. Being mainly familiar with the muscly black-singletted bloke, the iconic if not archetypal Kiwi male, set within thick enclosing boundaries, my first impression was of the difference in scale. Not only are these paintings big, but the bounded edges were so dominant that they almost became the pictures, while tucked away in the middle, as if through a key-hole or in a little alcove, was a figurative figure. At first glance these multi-coloured mosaics caught my eye. As I moved closer some large words, rough painted, imposed themselves, as did the figure within the alcove or keyhole. Then the mosaic fragments themselves morphed into words strung like roughly hand-made beads, strings of them, encasing the figure in the middle. Occasionally I recognised a name, such as John A. Lee, Aunt Daisy, Nelson Mandela or Hone Heke. As I wandered around the big paintings, propped at various angles against any spare table or wall capable of coping with the load, I sometimes paused to peer at the strings of letters and words as if they would make sense if only I looked a little harder. As a rule they did not, reminding me of language before grammar, deep time; but also tempting me to provide a grammar that would give the seemingly random words some meaning. My mind trailed away – random, survey, controlled experiment, statistics, probability. And then suddenly, somewhere amid the verbiage, a sentence was there, rewarding the patient explorer. At other times, as in 'A Full List for You to Remember', even the tyranny of the alphabet appeared to be under challenge."
Click to read the full essay by author and Professor at the University of Otago's Department of History, Erik Olssen.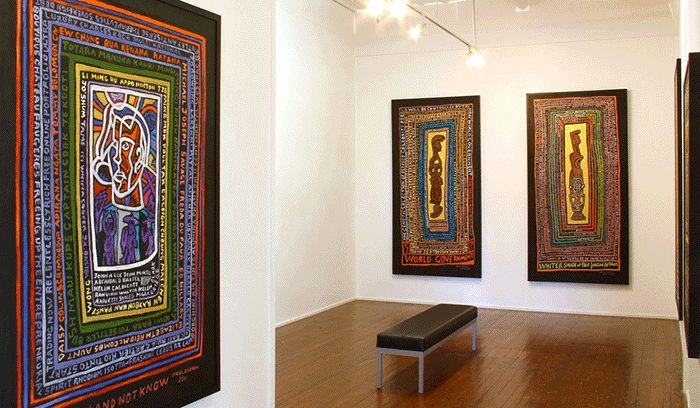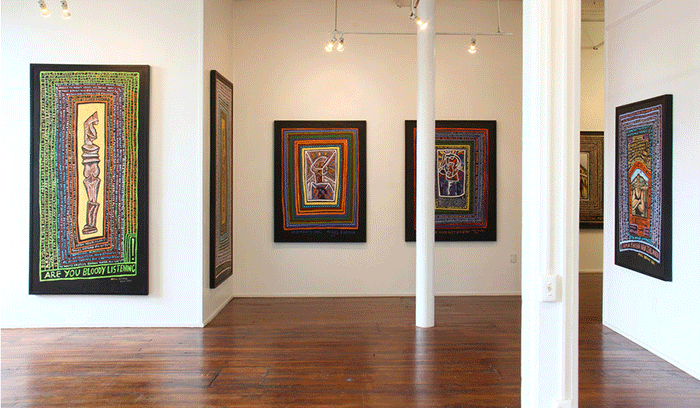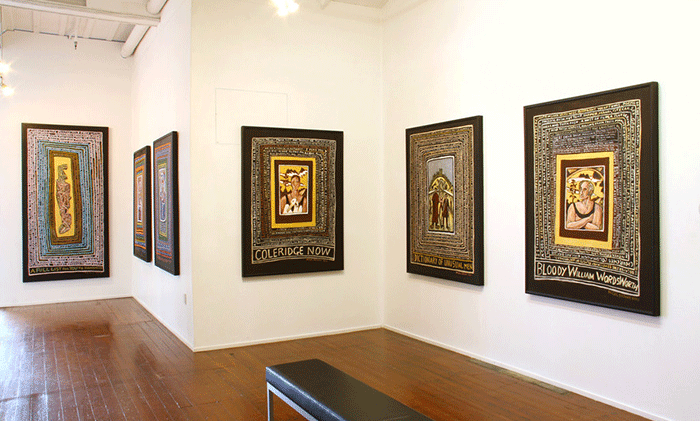 August 2015
Belong Belong
This selection of works is grounded in New Zealand, although in a general way beyond content or specifics, the dot technique in some works owes something to Aboriginal art across the Tasman. In some works, or parts of works, I am developing loose dots in a layered, open build up of tone and intricacy. The spatial layout remains in the Western tradition of foreground and horizon. The underlying linear structure gets honed back.
The title of the show suggests a chant of sorts, and these works could be seen as distilled concentrations with a certain repetitive iconic format. There are no rigid tribal or religious agendas but there are tensions between the vernacular, historical figures, contemporary events and the varying painterly approaches.
My spiritual agendas tend to be a crying out for the land and birds, and envisage nurturing in a heightened manner. Recent influences such as Richard Nunns and Glenn Colquhoun, as well as the English Romantic poets have focused me on the painting as song, poem or chant. For some years now my son-in-law Dudley Benson and his work with albums such as 'Forest', has been a pointer to nature, and birds in particular. I think his lament ' Kiwi' really explores a new nature relationship in an intense way, building on Hirini Melbourne.
In contemporary living, much expression has been stripped away by Functionalism and Modernism. So I'm retrieving and reviving. The black singlet man and woman become the essential human element to complete the belonging story. I don't want to see birds as separate from us so I exaggerate the intimacy.
I want the now to link to the past and organic nature. I want ancestors to come alive with contemporary relevance. I want the belonging to be a pulsation and a continuum.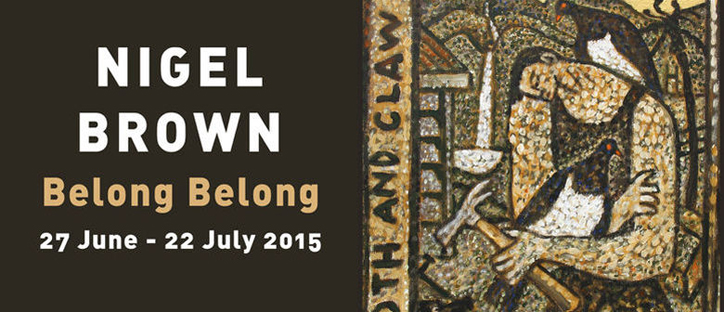 April 2015
Albatross Neck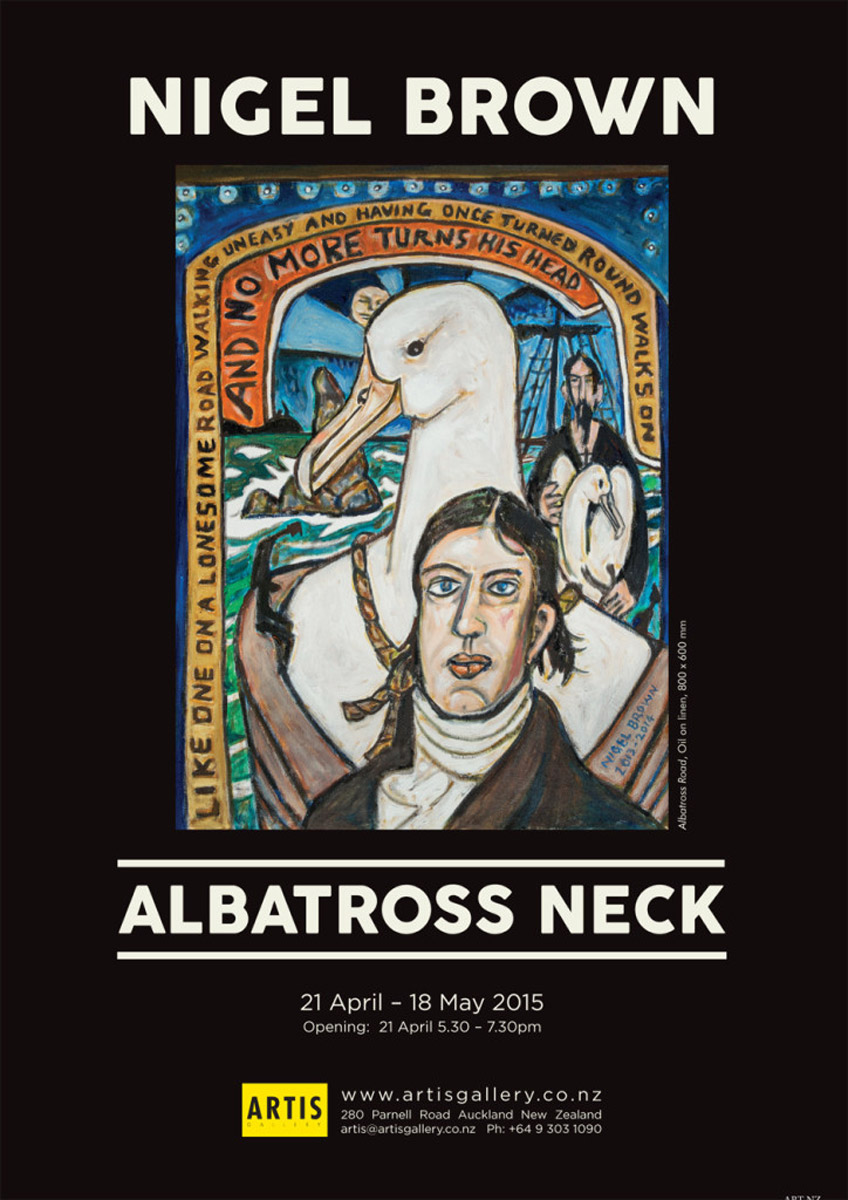 March 2015
Leaving Cosy Nook
The day has come to sell up at Cosy Nook. This will happen over the coming months. Ownership is the wrong word for a piece of wild coastline like this being in your life. We have joked about our own private beach but it has felt that way!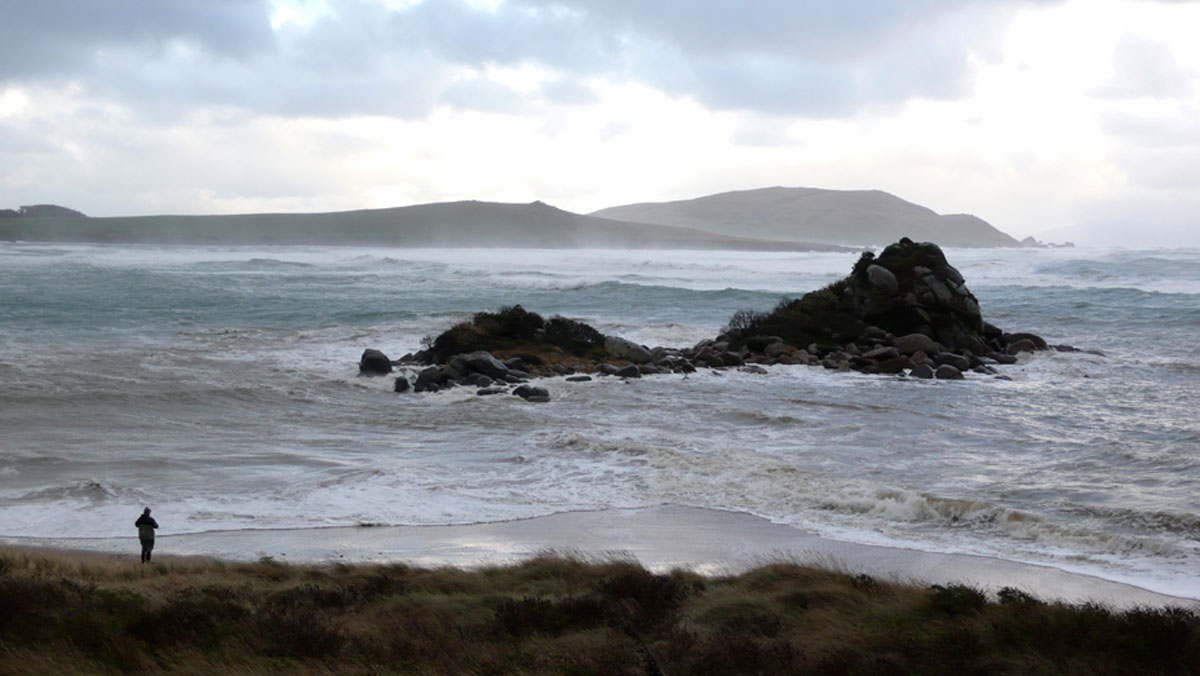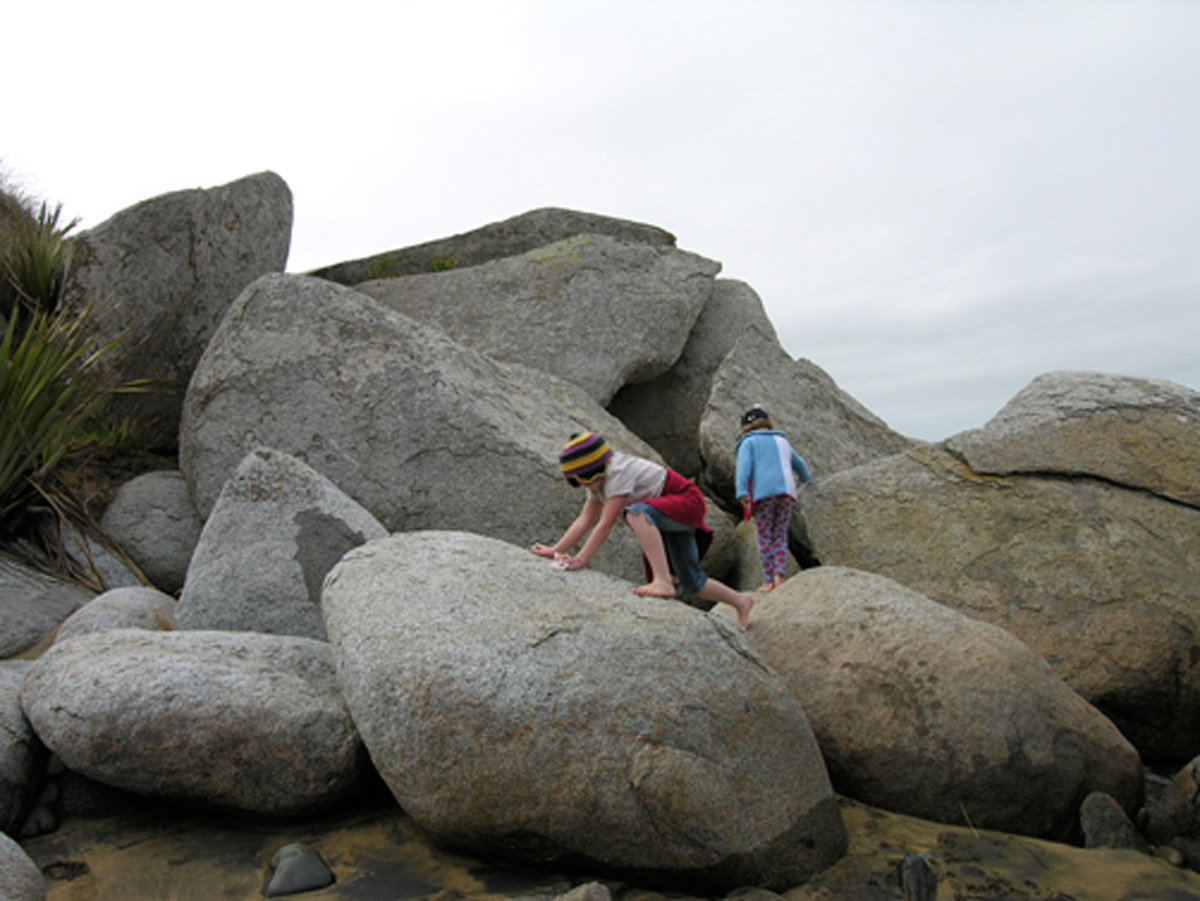 It's more of a deep privilege to be daily part of the rocks and sea and trees. It really unquestionably belongs to the birds. More off shore islands provide homes for seabirds – mainly karoro, terns and two species of shags. There are spectacular swarming of titi (mutton birds) diving before you. Spotted shags gathering seaweed at nesting time. It gets under your skin. You feel alive.
I'd like to acknowledge our highland cattle for their quiet munching lives and the soft eyes of our Orpington chooks. For us Cosy Nook has been a nature sanctuary.
We will leave here full of memories of campfires on the beach, excited visitors and family gatherings but of course someone else will now have an opportunity to take up the challenge this southern life style represents. It's hard to imagine a more exciting place for people, for poets, for musicians, for children into rocks and islands, for anyone open to nature. It's been so inspirational to me as an artist and a defining experience. A dramatic situation of seascapes and big skies, A sheltered and intimate pastoral sanctuary next to bush capped Pahia hill.
Nigel & Sue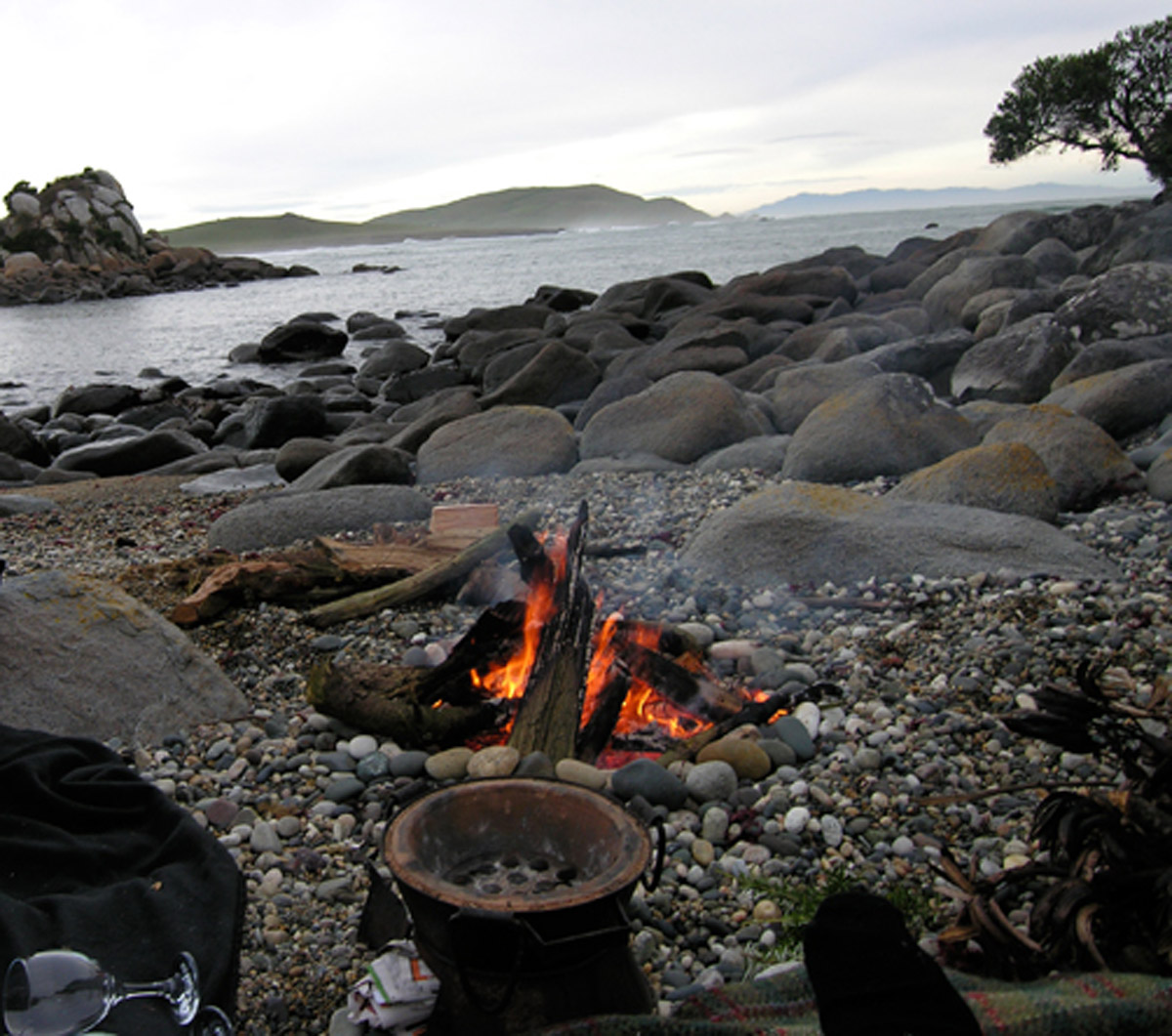 February 2015
Tranquility Disturb'd
This large loose canvas was finished in 2014 and taken down to be rolled and sent recently for showing at the National Portrait Gallery in Wellington. Tranquillity Disturb'd is a three person show with Lisa Reihana and Gavin Hurley.
I'm pleased to honour a few poets and the concept of freedom for writers and poets. I also assert the freedom for artists to push boundaries, surprise, alarm and stimulate. Whatever the shabby politics of the day, the threats to nature, the crass cynicism, there are creative beings with plenty to offer. In the now and in the past they inspire.
This canvas is also a lead into my one-man show Albatross Neck coming up at Artis in Auckland.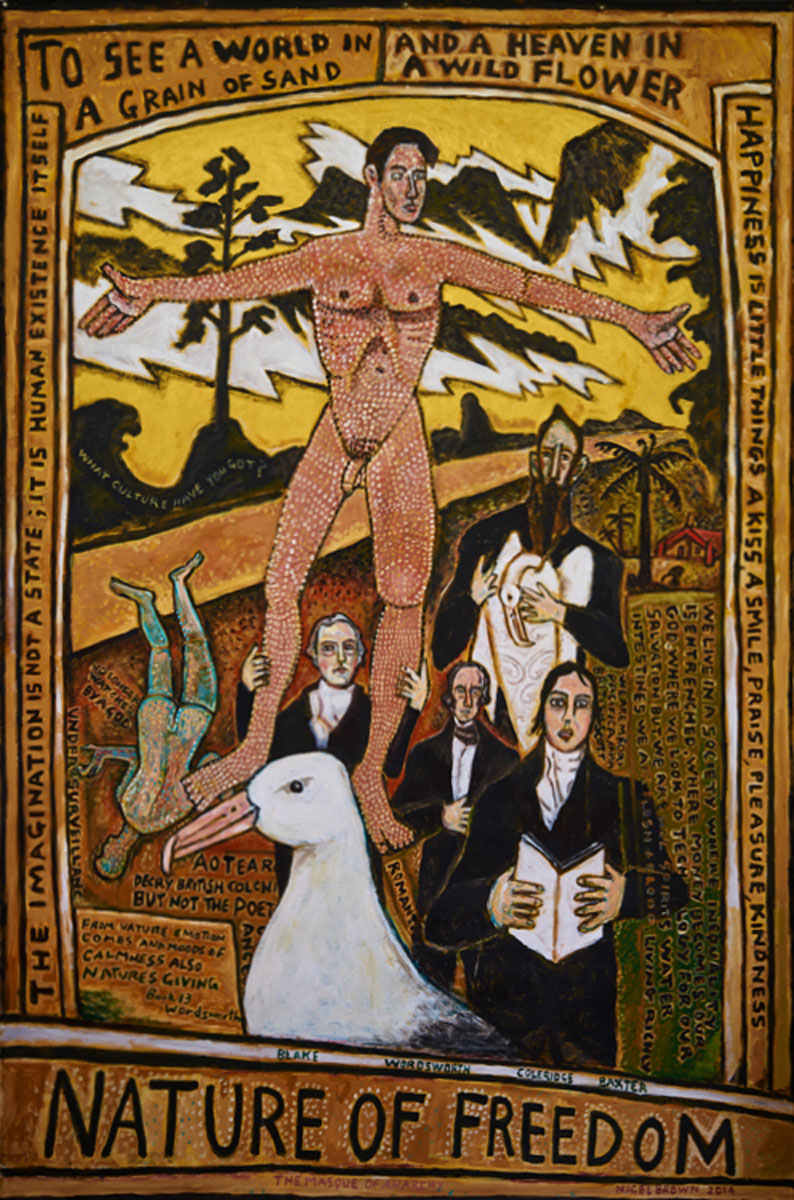 December 2014
Intuitive Mind
Released this month via Cosy Nook Press Ltd is Nigel Brown's first self-published book in many years – Intuitive Mind. A limited edition collection of drawings with an introduction by Nigel Brown, Intuitive Mind explores instinct, the heart, and spontaneity through a series of bold pen-on-paper drawings. Intuitive Mind was printed and bound in an edition of 150 in Dunedin.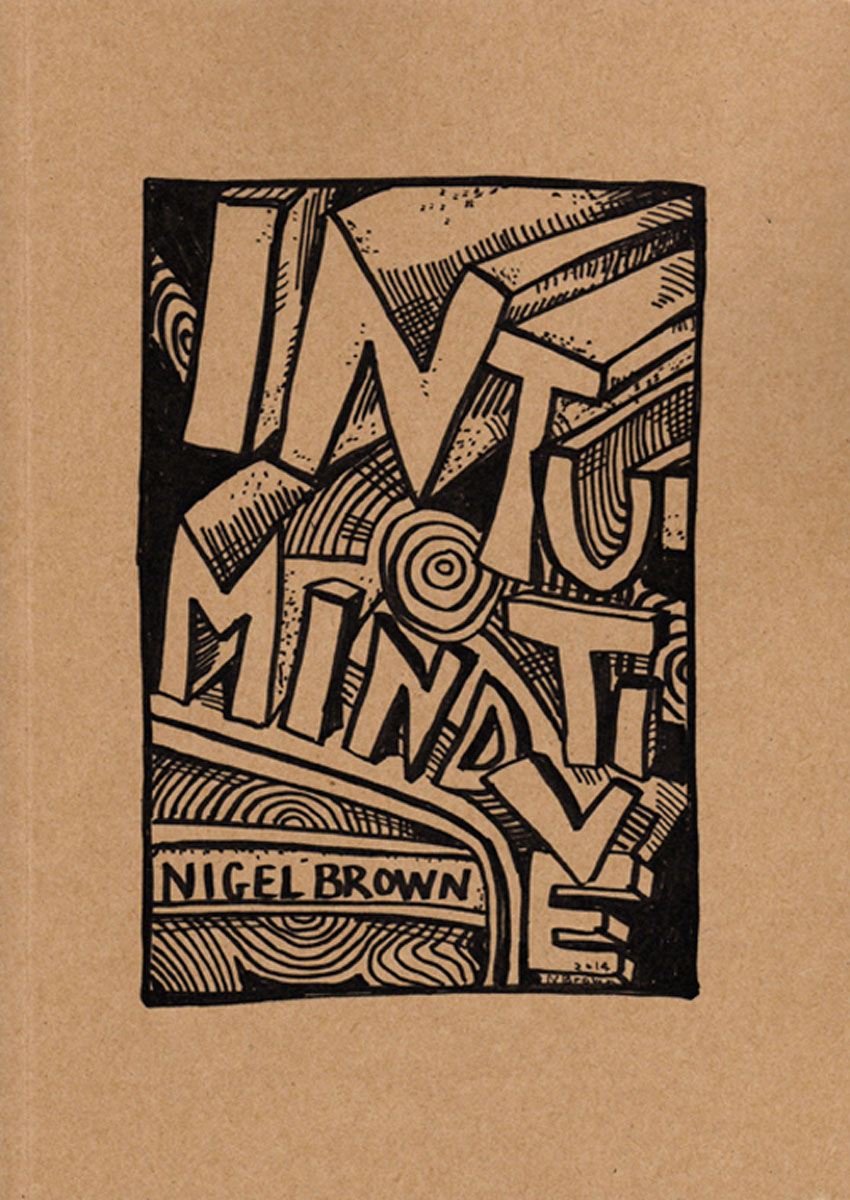 November 2014
Wettest November
I'm looking out my studio window in the wettest November. The objects on the sill are what I do to amuse myself when not painting. Somewhere we have our Sebastopol goose in hiding trying again with eggs. In the chook house on the earth floor part we have an Orpington hen sitting on eggs also. Grass is growing relentlessly. From the south the wind whips the sea.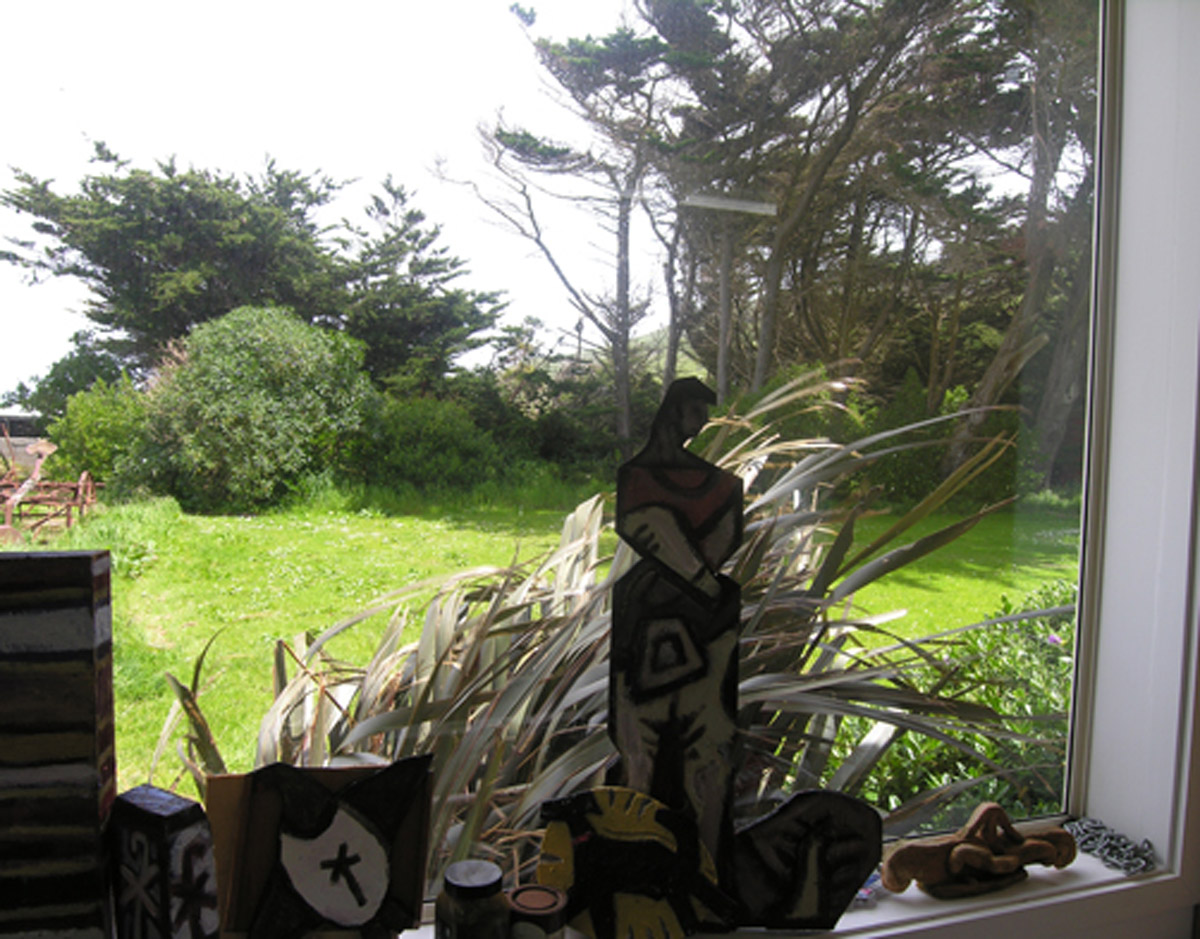 September 2014
Museum of the Vernacular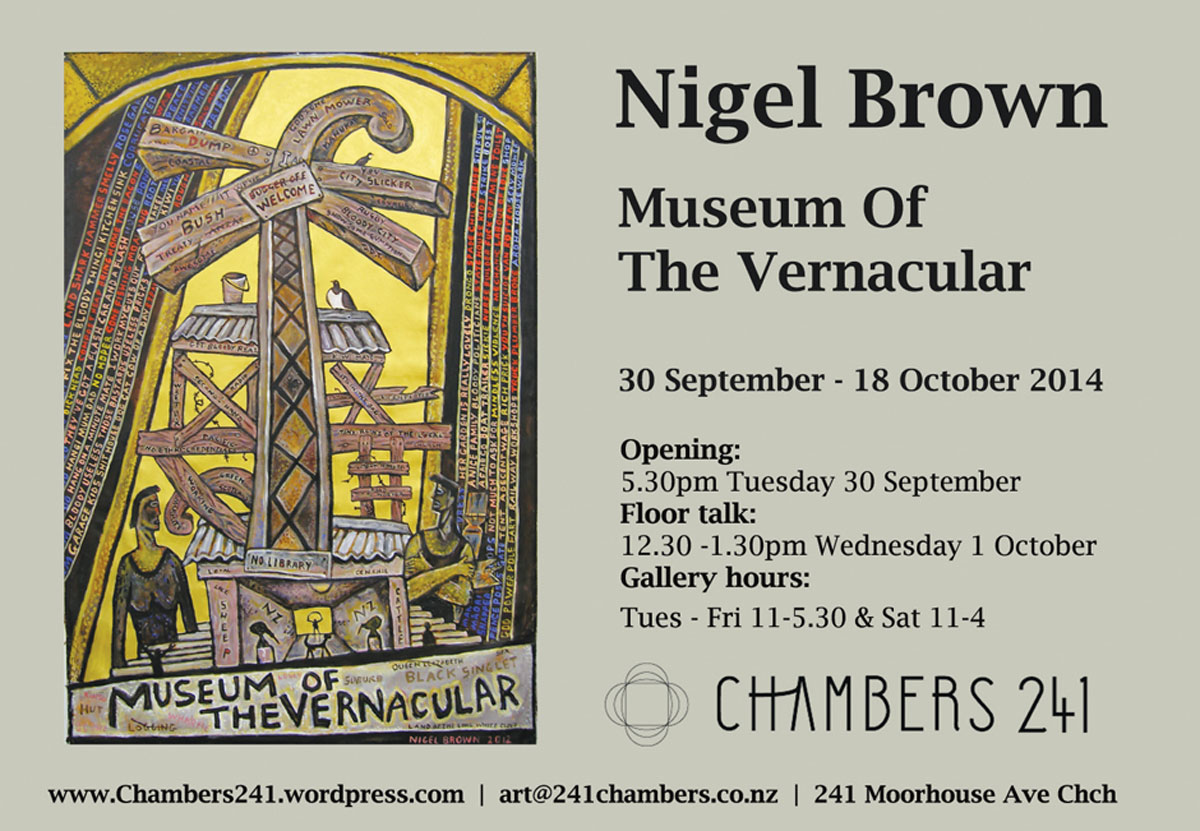 September 2014
Away and Towards
August 2014
Sustainability Mural
A couple of months ago I completed a mural in one of our paddocks over looking a nearby bay that over the last ten years has been steadily eroding. Sue and I have opposed a sea wall along the coastline of Mullet Rd, and submitted numerously against it. The whole process was flawed and in the long term not viable because the surrounding cliffs will continue to collapse. The road will be threatened again in the near future. Even though the sea wall is going ahead we felt we managed some minor protection and stringent monitoring.
It was certainly an eye opener to the limitations of local coastal management and total disregard for coastal eco systems.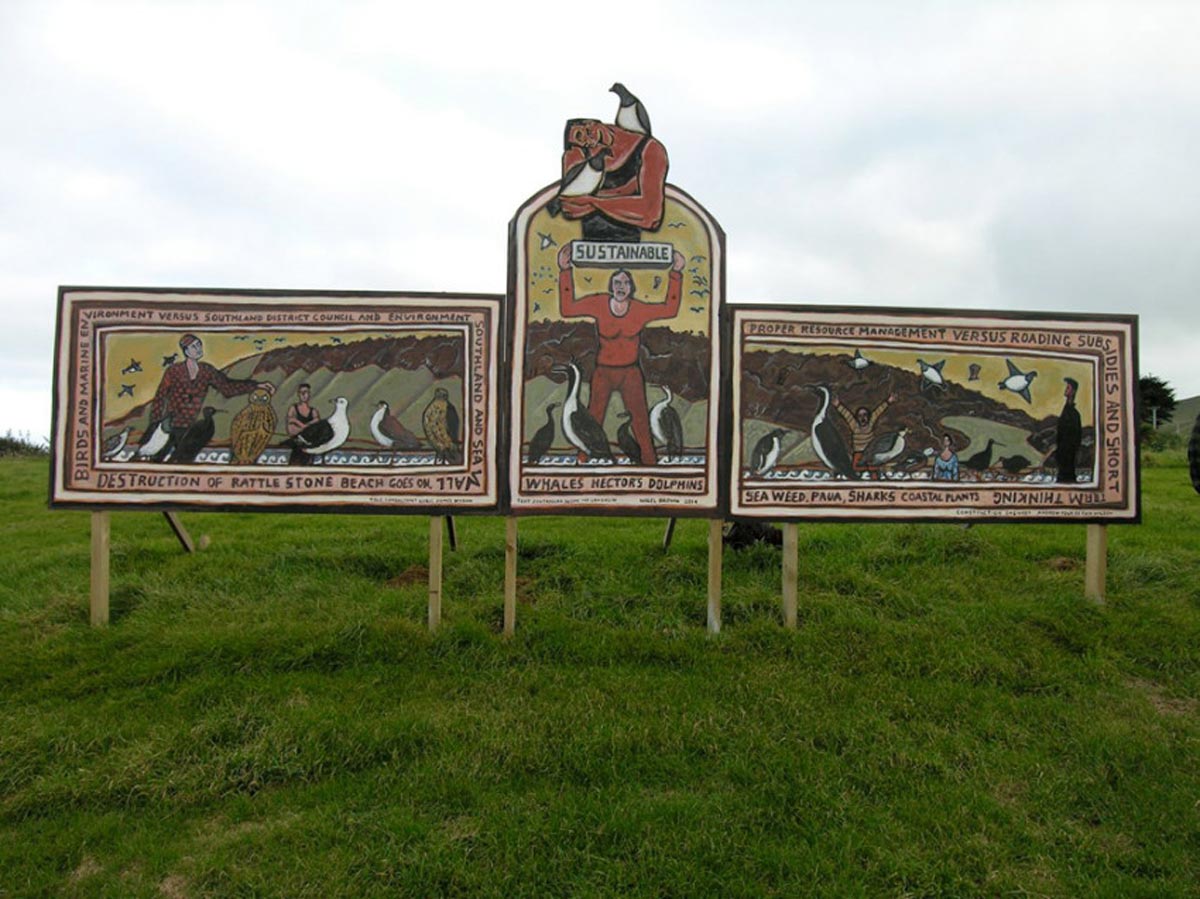 May 2014
Away and Towards
This extensive exhibition runs from 10th May – 4th June 2014 at Milford Galleries Dunedin, with an opening on Friday 9th May 2014 at 5pm. Away and Towards spans paintings from 1978 to examples of the recent Provocation series. Featuring work selected by the artist and Milford Galleries director Stephen Higginson, Away and Towards includes important large works as well as smaller pieces. An extensive online catalogue is available through the Milford Galleries website. Nigel wishes to thank Susan McLaughlin and all the staff at Milford Galleries for their effort and the support received.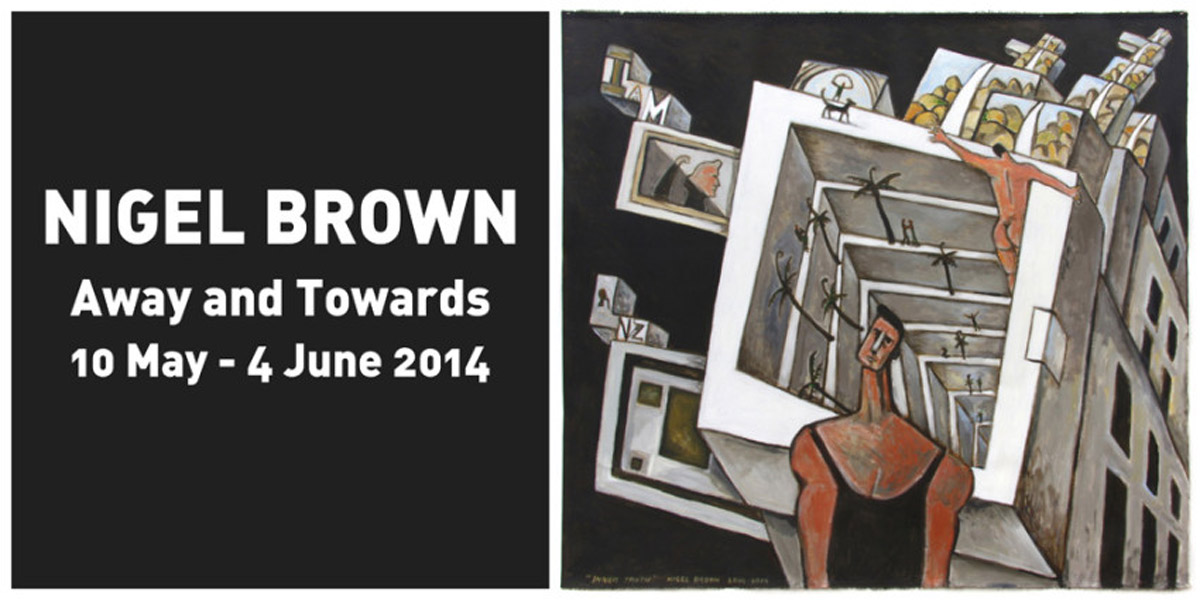 February 2014
Waterfalls, Dancing Star, Artis Gallery
– Waterfalls is Nigel's new exhibition at Wellington's Solander Gallery. More information here.
– Nigel is currently guest artist of the Dancing Star Foundation. From their website: Dancing Star Foundation is honoured to present its second Guest Artist, Nigel Brown. Nigel is one of New Zealand's most important and provocative contemporary artists. His work reflects a deep and abiding passion for the environment that has stirred hearts and minds throughout the world. Click to head to the Dancing Star website, who have published a piece Nigel has written about his concerns, motivations and work. 
– Nigel's new dealer gallery in Auckland is Artis Gallery.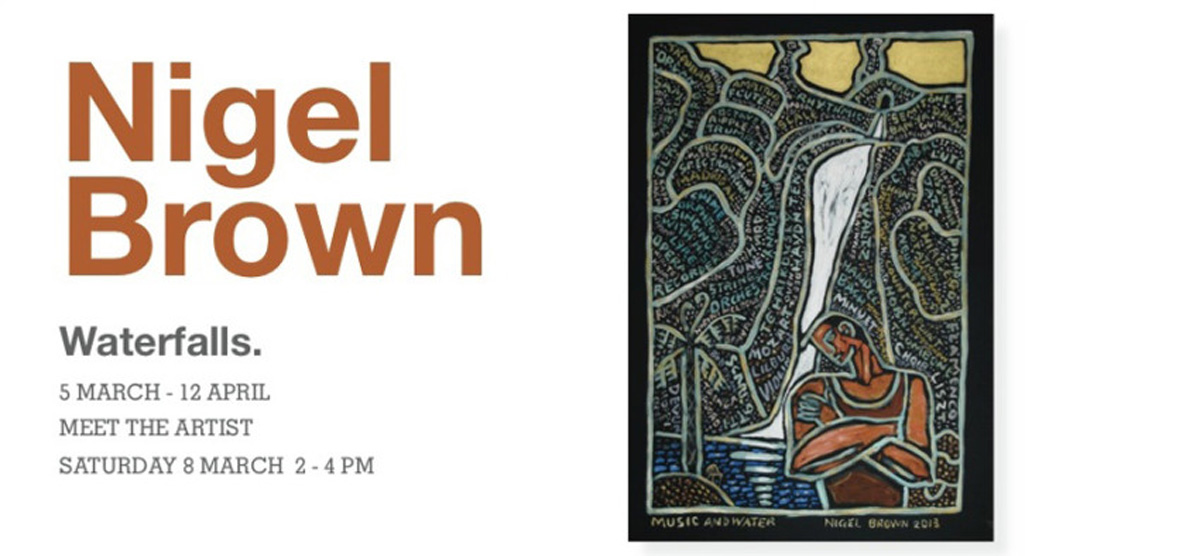 January 2014
Two Books and The Vernacular
Two books came my way lately as gifts from Sue.
The first was Mastering the Art of Soviet Cooking, a Memoir of Food and Longing by Anya von Bremzen, published by Doubleday. This book said it all in terms of identity and food. In this multi-ethnic saga of the collapse of the USSR, it is fascinating how food and the vernacular are intertwined. Food can be a distinctly local or a foreign influence creeping into societies. In Russia under Peter the Great and later Stalin, food and the State reached new levels of interconnection. The difference in food in the past between Moscow and Saint Petersburg with the later city coming to look to the West was marked. Under communism food was manipulated in complex, blatant and disastrous ways. Finally, difference is faced as the food writer and her mother, having emigrated, find massive change on their return to Putin's celebrity-focused Moscow.
In effect this book gives you a passionate nostalgia, balanced by an eye for the conflict between unique local food and the vernacular versus the allure of the exotic that is now a worldwide phenomenon.
The second book I came to have was Coast, a New Zealand journey by Bruce Ansley and Jane Usher, published by Godwit. Strong photography, great compositions, romanticism, integrity on a level beyond the usual coffee table New Zealand variety, and a depth of searching into vernacular coastal mythology. It's moody and rich and full of unique material. It's also a fabrication in a way in terms of what is left out of changing Aotearoa but that's okay. Identity almost appears timeless and impregnable.
Putting the two books side by side you may ponder the role of the state and global forces both in New Zealand and seemingly different Russia, but be appreciative of the individuals who treasure uniqueness, and record or write about it in dedicated ways – not just swept along in it all.
November 2013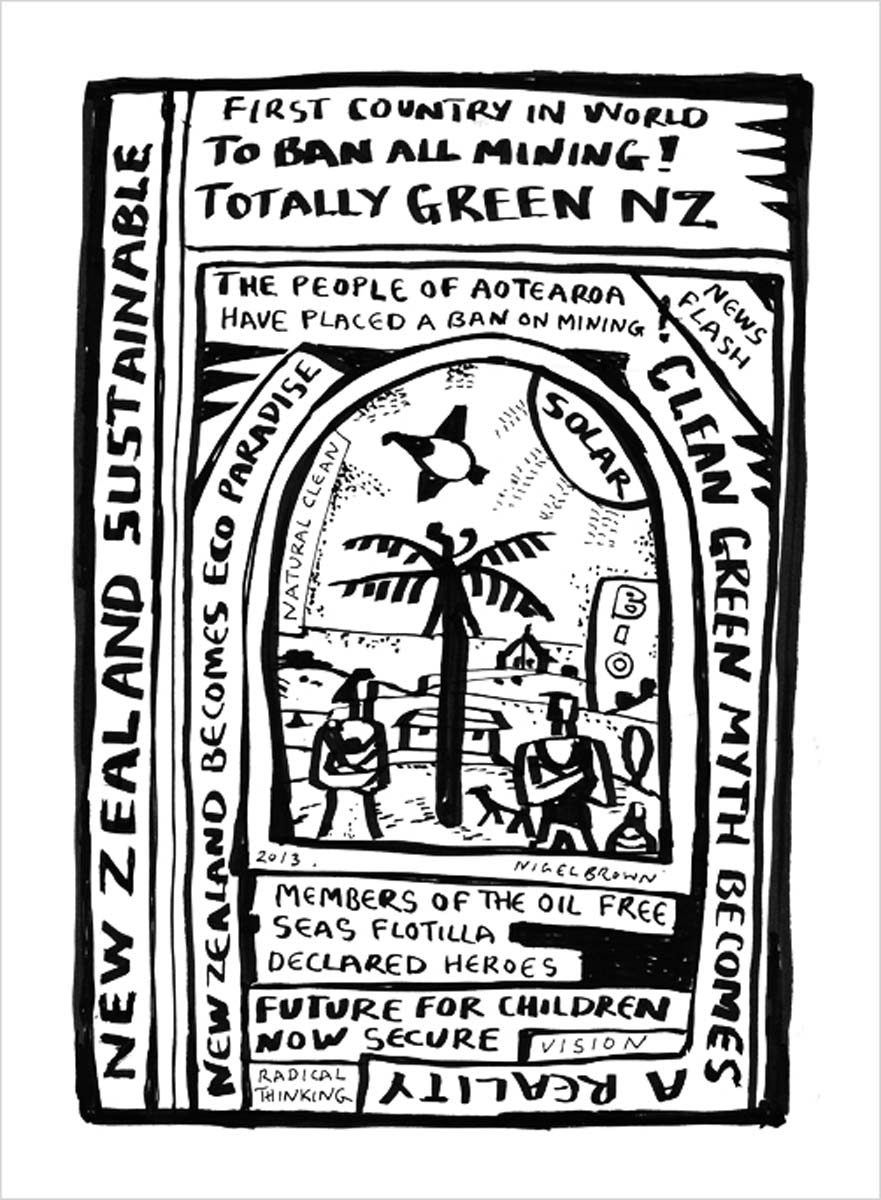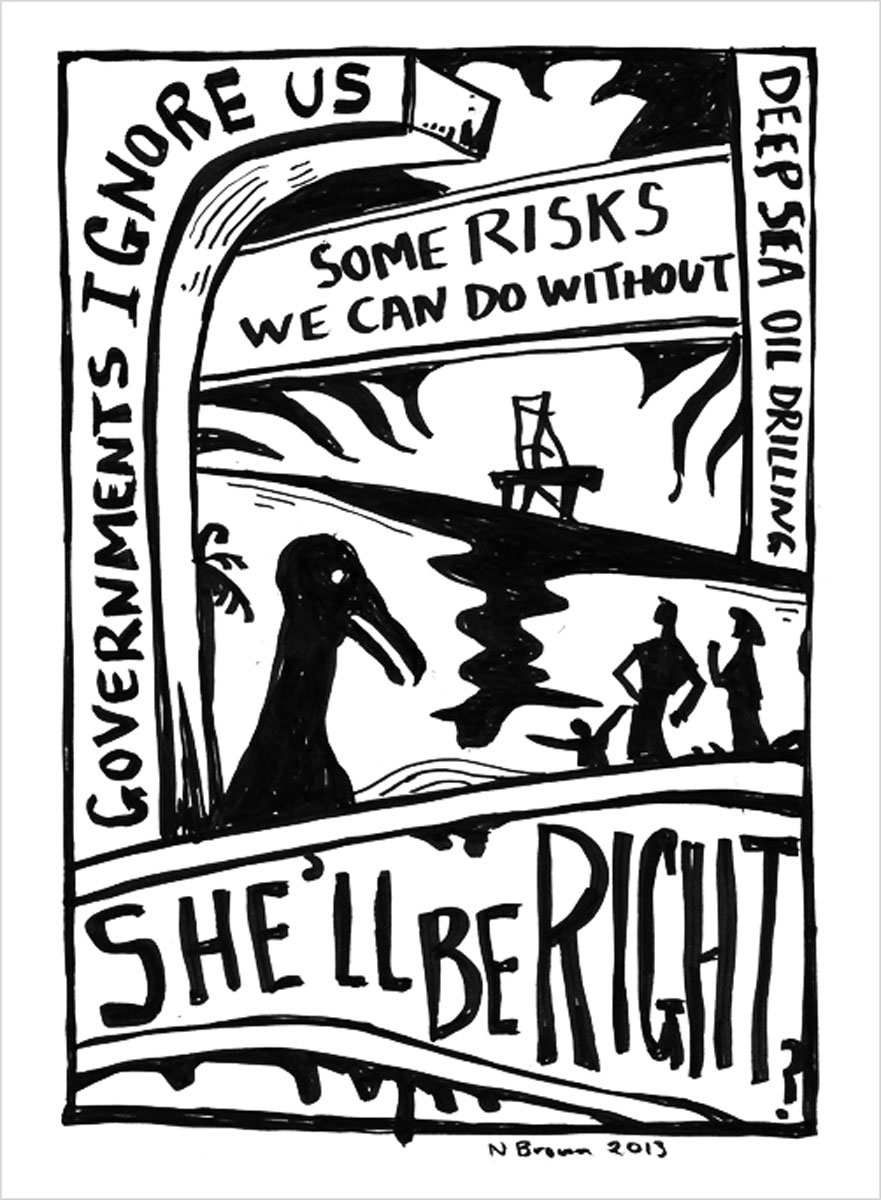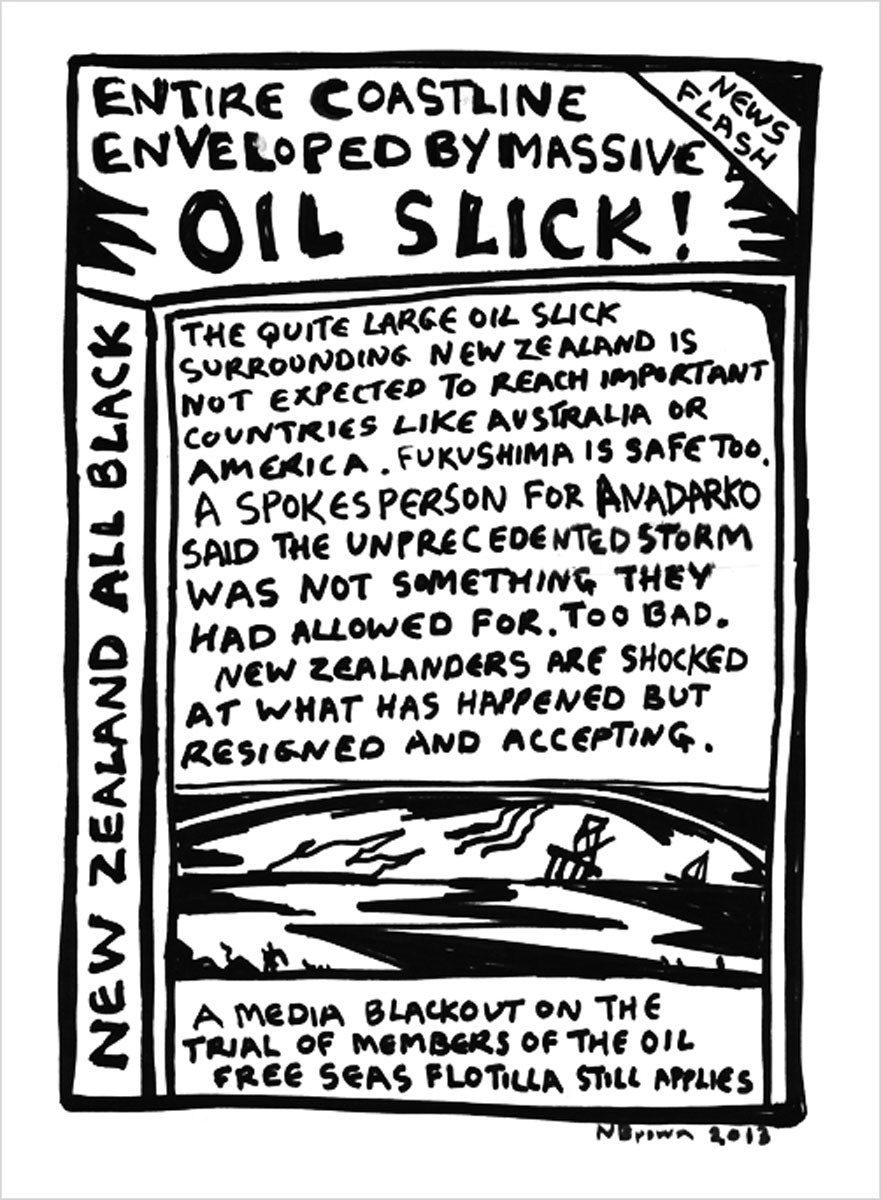 November 2013
Painting Now
Painting is the use of a stick with hairs bound to the end. Painting is pigment which is made up of particles that reflect light in accordance with the spectrum. The particles are held together by a medium that also glues them to a support. The first supports were cave walls or stretched animal skins or bark or human flesh. Our first paintings used no paint and were gestures or marks in sand.
Today we have canvas or board or paper or whatever. We can still prepare it a bit to feel the space. This also can roughen or personalise the support. When we grip a brush we are able to use paint to realise space and feeling and ideas. We look and we interact with our hands, the materials, and our support that holds it all. We are our eyes and our minds.
After many years of practice we paint almost beyond consciousness but the results can still be surprising or disappointing depending on the day. All this mind over matter-focused creativity sits oddly with a contemporary information overload.
For me paintings at best can be organic and an intimate sharing. Thoughts and words are important to me in work both as triggers and as actual included elements. The integration of words is a challenge but properly used can add to the visual. Memory and stream of consciousness have become increasingly present in much of my work and equate with both the archetypal and highly complex situation of the present as well as conveying multiple levels of awareness in full. Painting can be changed utterly by the now but also be reassuring and familiar. Frames remind us our eyes sit in our skulls dictating and limiting our vision. The nature of what we see is determined by the boundaries in our head and in our society. Whether we frame or not, or even know how to look, paintings have ancient miraculous aspects always lurking.
September 2013
To Niue & Back
At the beginning of last month Sue and I were in Niue – a relaxing place to be. The principal artists I am aware of associated with the island are Mark Cross and John Pule. Still some fine weavers in evidence. Niue is run by an assembly of members from the villages. The most interesting stories there I came across were Laufoli leaping into his umu to renounce violence and a man with cancer wanting to watch whales every day while building a house with no hand rails on the path. Most inspiring and intense was attending a church service at Vaiea with decorated altar and glorious singing and then to be told half the congregation were from Tuvalu as refugees from sea rising associated with global warming.
Coming back to New Zealand the tension of the GCSB bill in its final stages made me think back to Nuie and wonder what it might be like to live in one of those villages looking out on the world of visitors passing by.
In Auckland I attended the launch of the publication 'In Search of the Vernacular' at the Depot in Devonport with Denys Trussell speaking. The evening was affirming and reassuring. The Depot has achieved a great deal.
Later after the Wellington earthquakes all the artists – Melvin Day, Gerda Leenards, John Walsh and myself – who feature in Peta Carey's film 'Waterfall' had a group show at the Diversion gallery in Picton. Unfortunately I was not able to attend the opening, usually lively and fun.
During all this I was reading 'Lillian Hellman' by Carl Rollyson. This American playwright is a good example of a person who could've faced jail if email and its interception had existed back in the McCarthy era, but who basically was merely open minded and searching.
Most miraculous at Cosy, our two Sebastapol Geese laid their first egg and have become very bold and adventurous.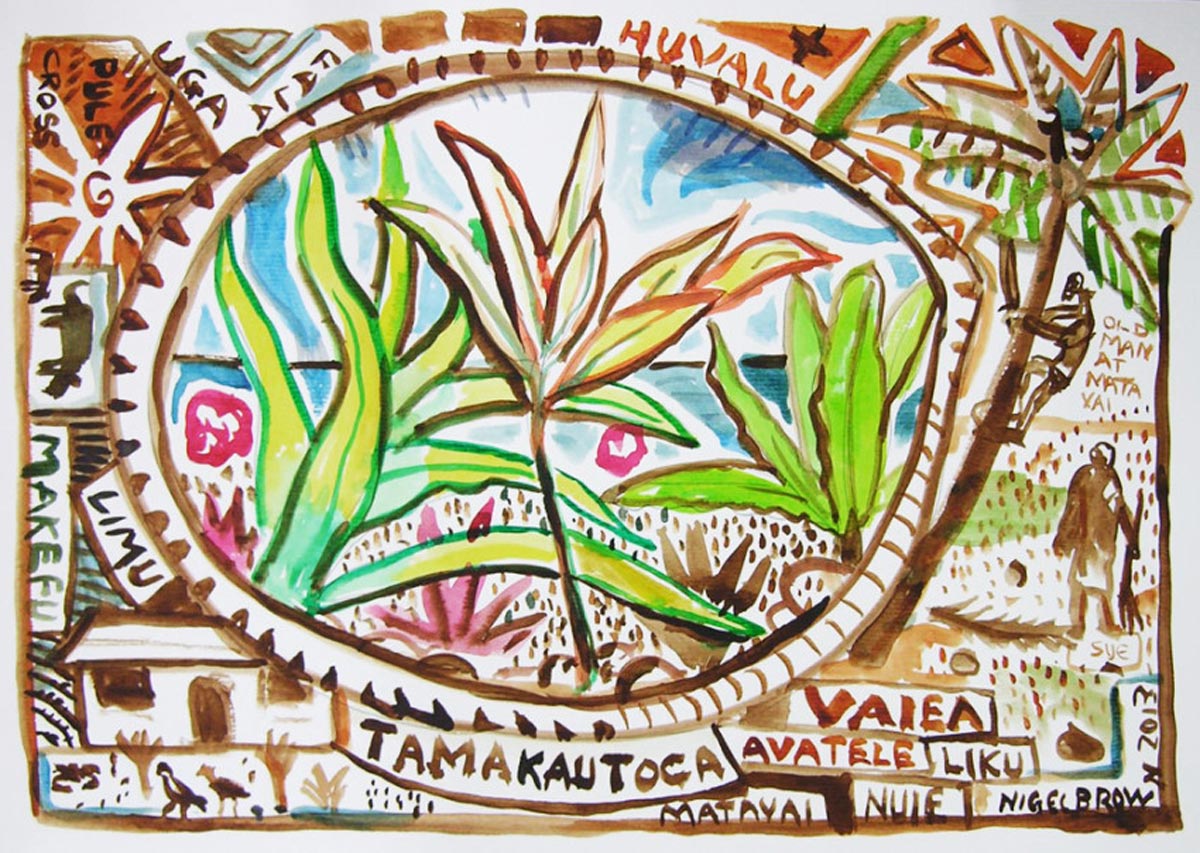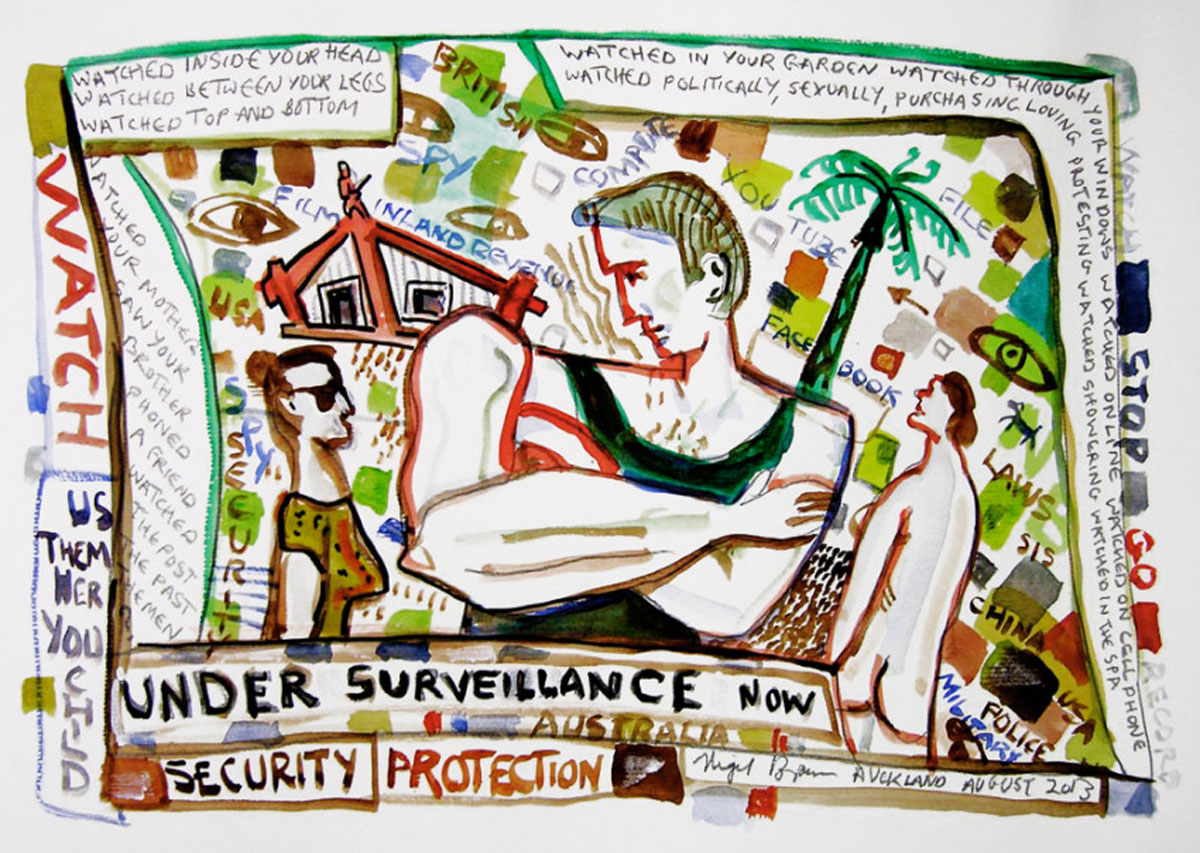 July 2013
Structure Doodles
These recent drawings in marker pen are designed to be shared online or as copies. I've done poster type drawings for photocopy for many years in relation to events. It tends to be separate from my work with more permanent artist's materials.
The theme of these might be understanding the world from a vernacular point of view or simply an outpouring from the subconscious tied to myself as an individual. Most public monuments are the result of consultation and dialogue. These have no such restraint or logic. Perhaps they are pseudo monuments and a different one could be done every hour of the day. Identity can be closed down or open-ended.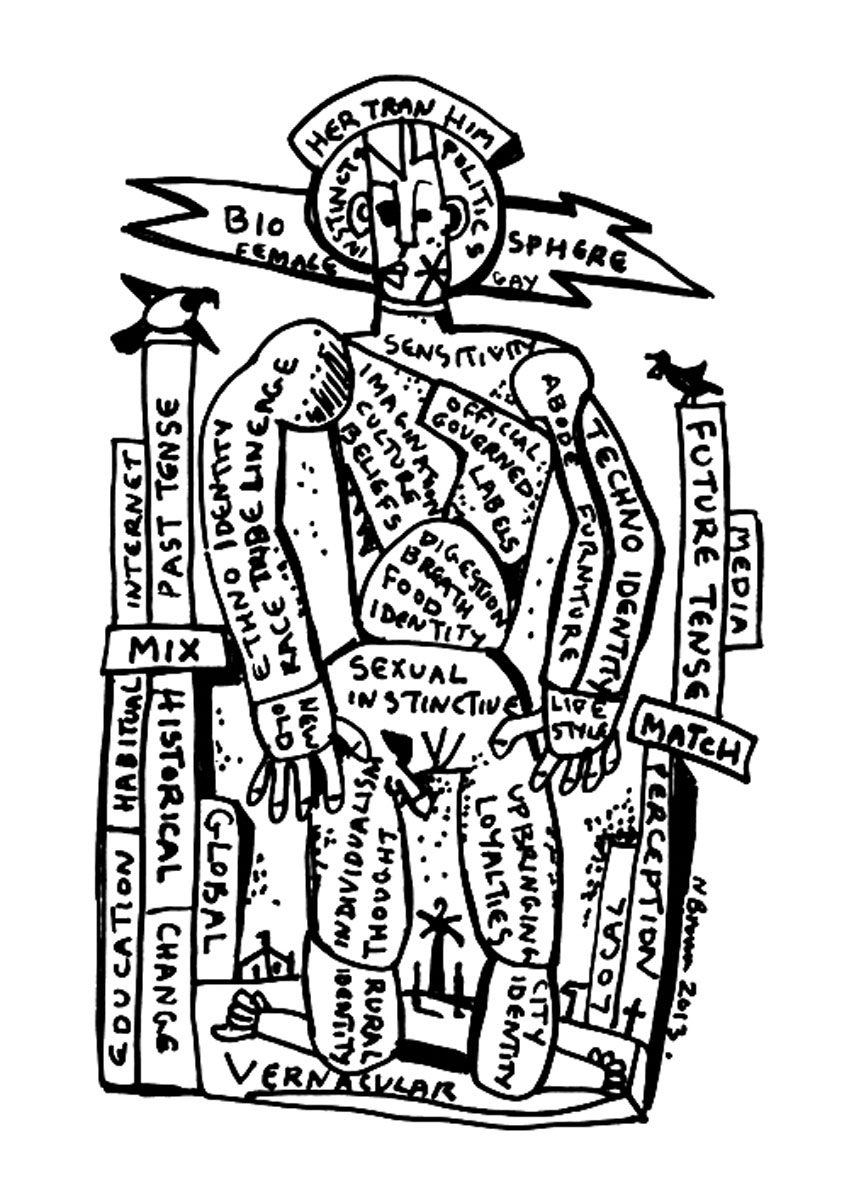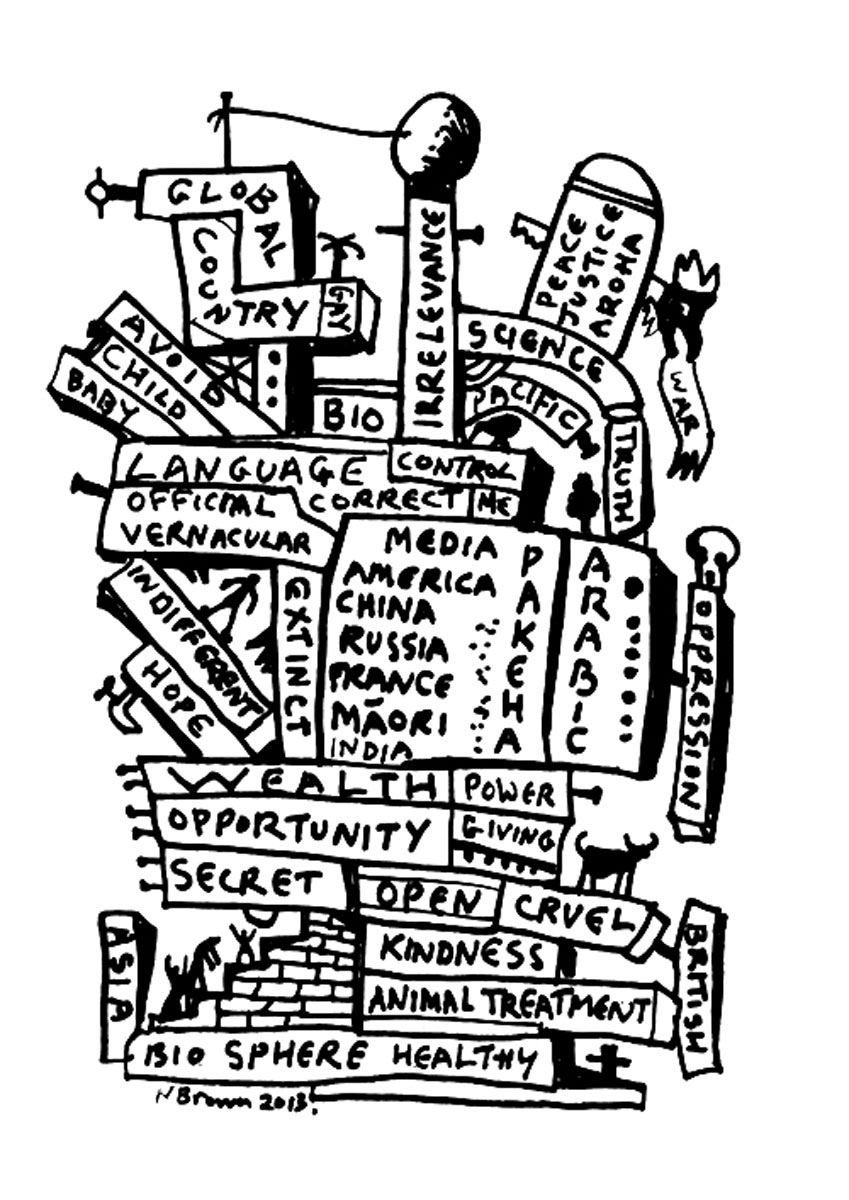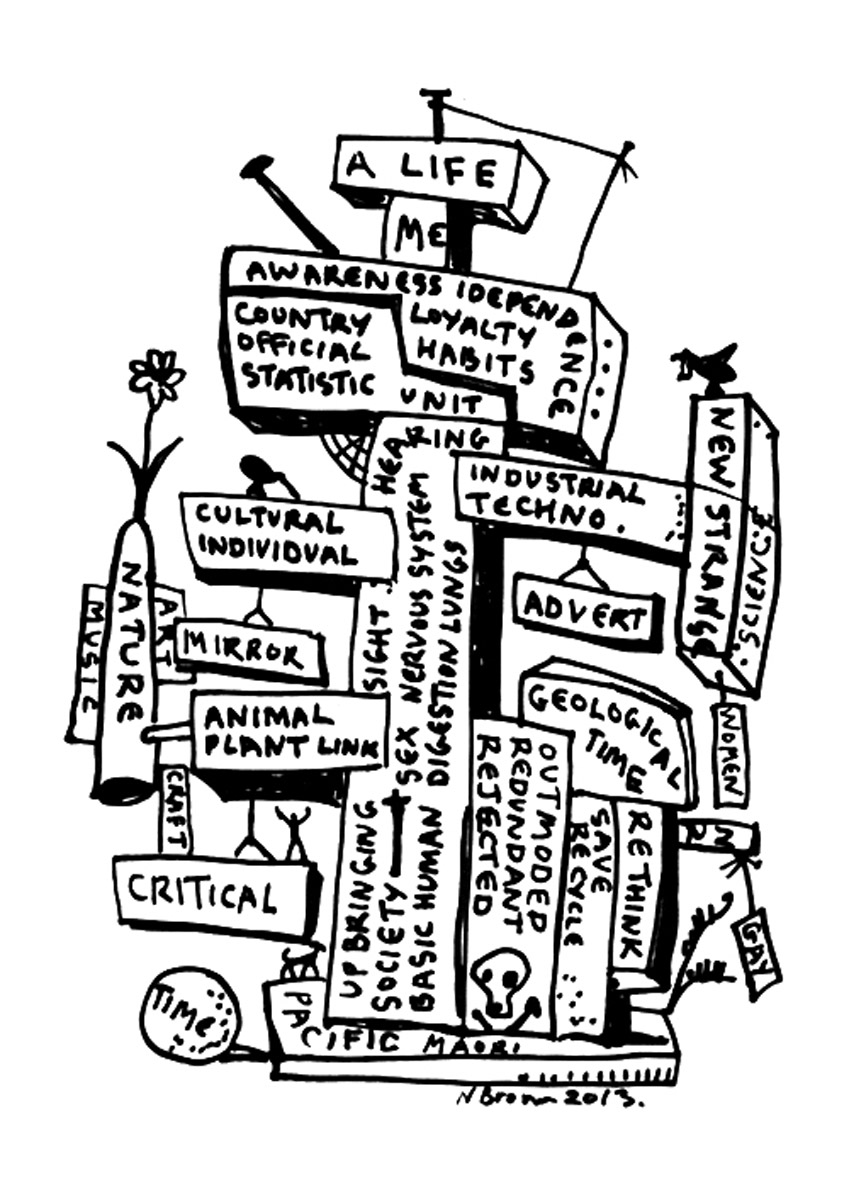 May 2013
Coleridge In The Now
Lately I've been thinking about Samuel Taylor Coleridge and other Romantic poets in relation to life in contemporary New Zealand. I've realised that if the French Revolution had crossed the English Channel New Zealand society would be different from what it is. But what interests when I read much of their work is how its Englishness doesn't relate to my identity as a New Zealander, yet it highlights the contrast. If I draw parallels with indigenous cultures such as Maori and Pacific peoples then I should go back to British history to find my culture. But this doesn't happen comfortably, perhaps because I think of myself as far removed from Britain and evolved in a new context.
What I have found surprising in my research on the Romantic poets is how radical they actually were, beyond the odes I was fed as a schoolboy. Also, I find their passion, especially for nature and how they express that, quite a marked contrast to the language of now.
Looking at Coleridge's Rime of the Ancient Mariner I see a long poem very relevant to what's happening environmentally now. Revisiting Romanticism for me is unexpected in terms of identity and I find stimulus and much to learn from its ardour and idealism.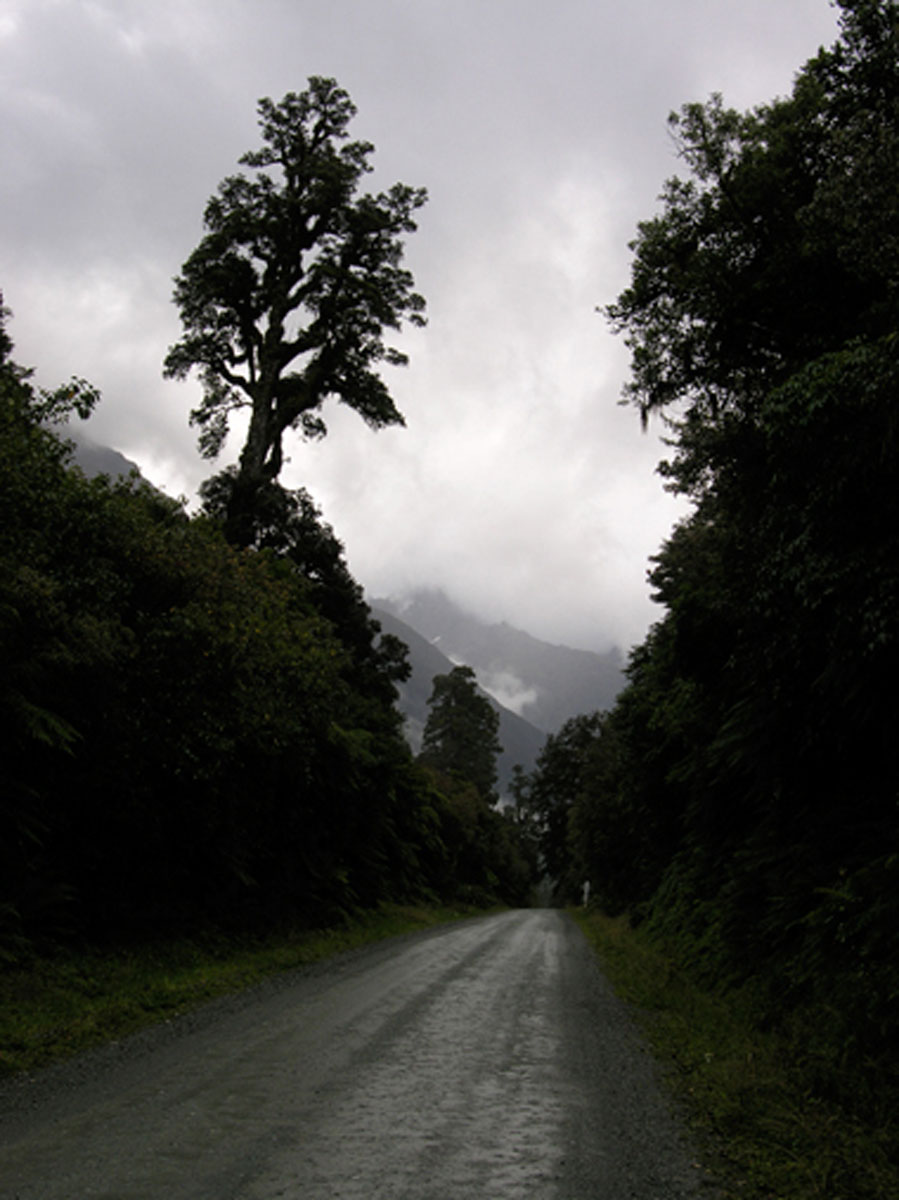 April 2013
Forbes.com has published Nigel Brown: A New Zealand Original, Michael Tobias' profile and overview of Nigel's work in political, environmental and social contexts.
Nigel: "I worry that New Zealand is losing ecological values through shifts in government policy. A lot of good work can be undone quickly. So much forest has been cleared already. In my art I attempt to explore the human relationship to land and nature or even to reinvent it. There should I feel be an emphasis on "the great simplicities" and by that I mean our relationship to the basics: sun, moon, creatures, plants."
Read the full article here.
March 2013
Invented Lives
"For his new suite of works, Invented Lives, Nigel Brown has taken as a starting point Picasso's 1937 painting Portrait of Dora Maar. As the title of the exhibition suggests, Brown's portraits are not of family, friends, or acquaintances; they depict individuals the artist has created from an amalgam of his own experiences, diverse visual styles, and re-figured memories. Portraiture seeks to define the 'essence' of the sitter that lies beneath their physical surface. With these paintings Brown turns this on its head: the essence of the person is already formed in Brown's imagination and he must depict its physical manifestation."  – Milford Galleries
Invented Lives, March 9 – April 3, Milford Galleries Queenstown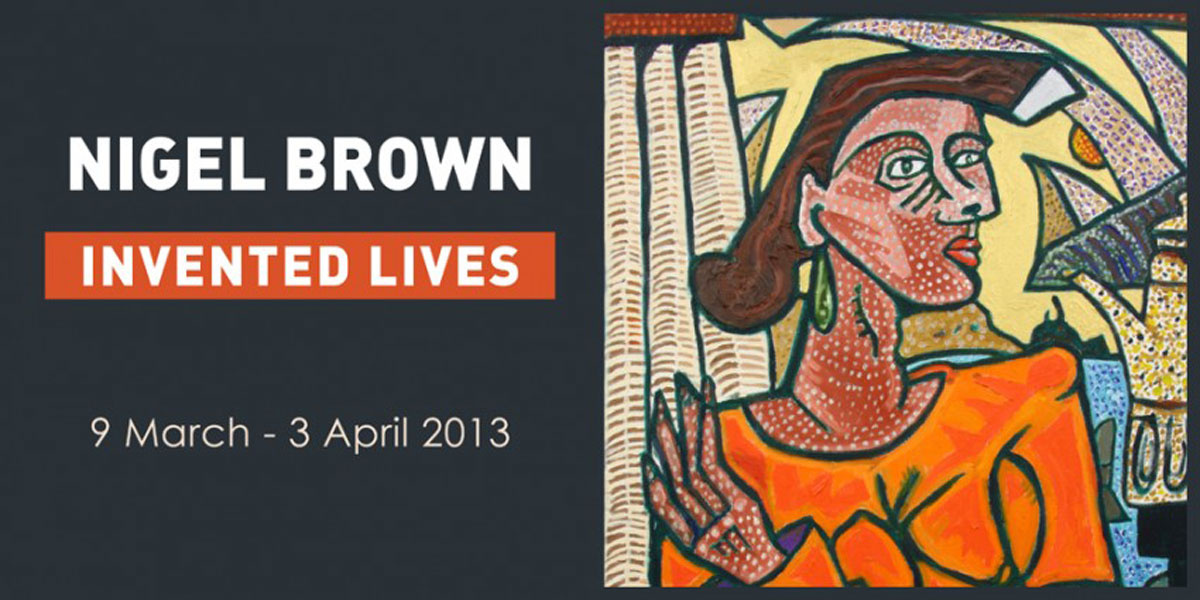 February 2013
Painting As Energy
I've been thinking about what a painting can contain, about the energy possible. And here I don't mean energy as in say Pollock or Maddox. I'm thinking of the quiet working of paint, as in Moffitt or McCahon. That energy is all tied up with what is to be said. That energy serves the end result rather than dominates. It's about a process that leaves qualities unique to paint.
It's impossible to judge my own paint qualities but I recognise my own handiwork and know when to stop. What a painting has at the end of it all is the mark of a person. Even very tight paintings such as to appear to negate the originator – if they are good – are unmistakably human productions. The rest are hardly there as original energy. We reject their ordinariness and they are seen to fall short.
Some paintings of worth are quickly enjoyed and others gradually in spite of critics. So the type of energy that interests me is a unique dialogue with paint having character and evidence of a human at work. For me it should not be polished to artificiality, nor removed, slick and formulaic.
These days the greatest contrast can be between the digital print and a painting. Painting is so slow by contrast and digital fast, if a little phantom-like. That reminds me of the debate over reproductions versus originals that was once prominent. In hotels you come across good and bad examples of digital prints and domestically the line between digital and art gets blurred with cheap stretched canvases. 
While I use my computer printer regularly I'm aware of the instability of the materials, and sense a fickle nature to computer images full stop. That may be merely my training and experience getting in the way. That's not to say a digital print cannot be a work of art once you accept its terms of making and the quality of removal. Much is going the way of the secondary experience in society anyway, it's crept up on us. However, for me the mediums still exciting are direct, organic and messy with a brush in the hand, and materials as qualities in themselves.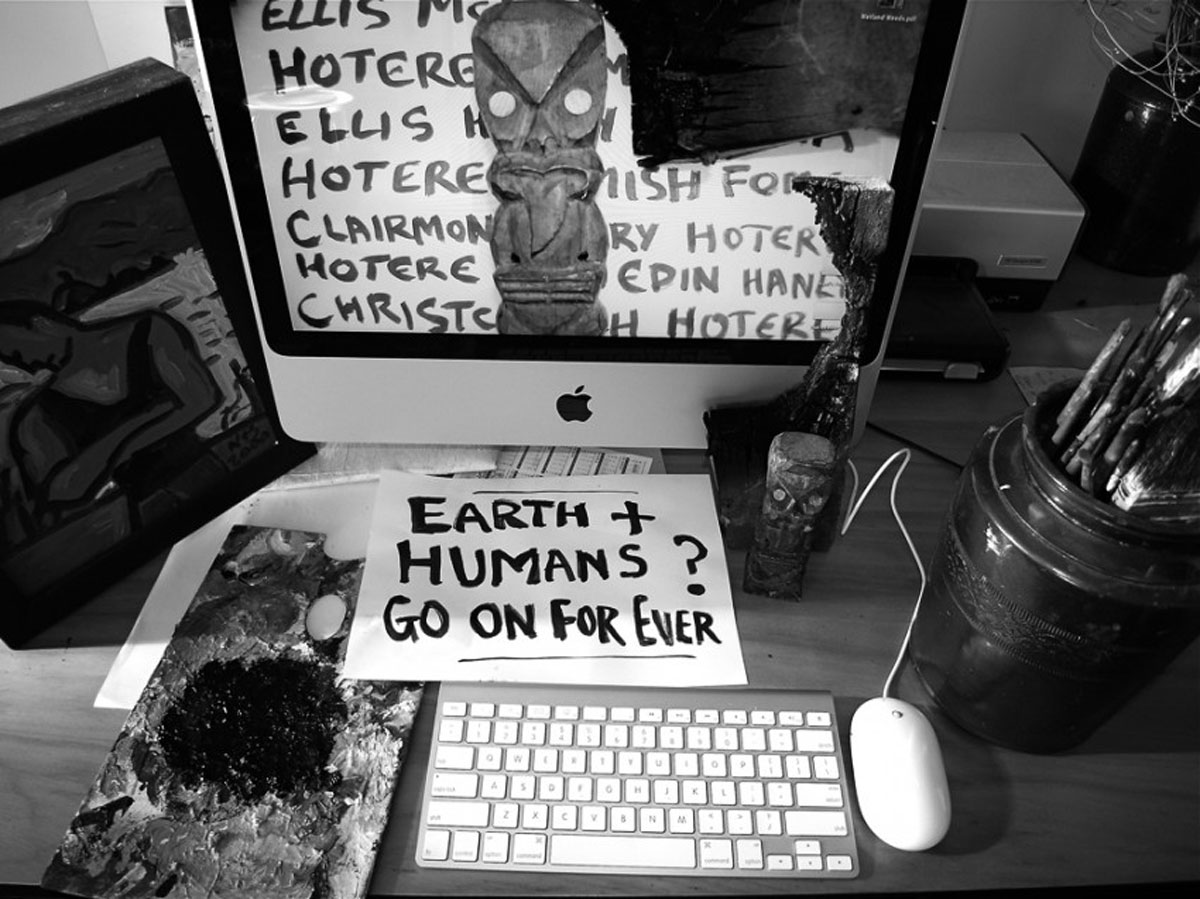 February 2013
Doors Flung Back
Doors Flung Back is Nigel Brown's first solo exhibition with The Diversion Gallery in Marlborough. Opening tomorrow, it marks an emphatic return to exhibiting in central New Zealand.
The title work, a major triptych on a substantial scale, throws open barn doors which, while holding all the rustic character of Brown's best known work, reveal unexpected intense pinks against strong blues inspired by 'a fresh acquaintance with German expressionism'. The central panel beckons the viewer into the artist's inner vision, with a sense of hovering on the doorstep with doors that might be blown shut at any time.
Doors Flung Back, Feb 14 – March 23, The Diversion Gallery, Picton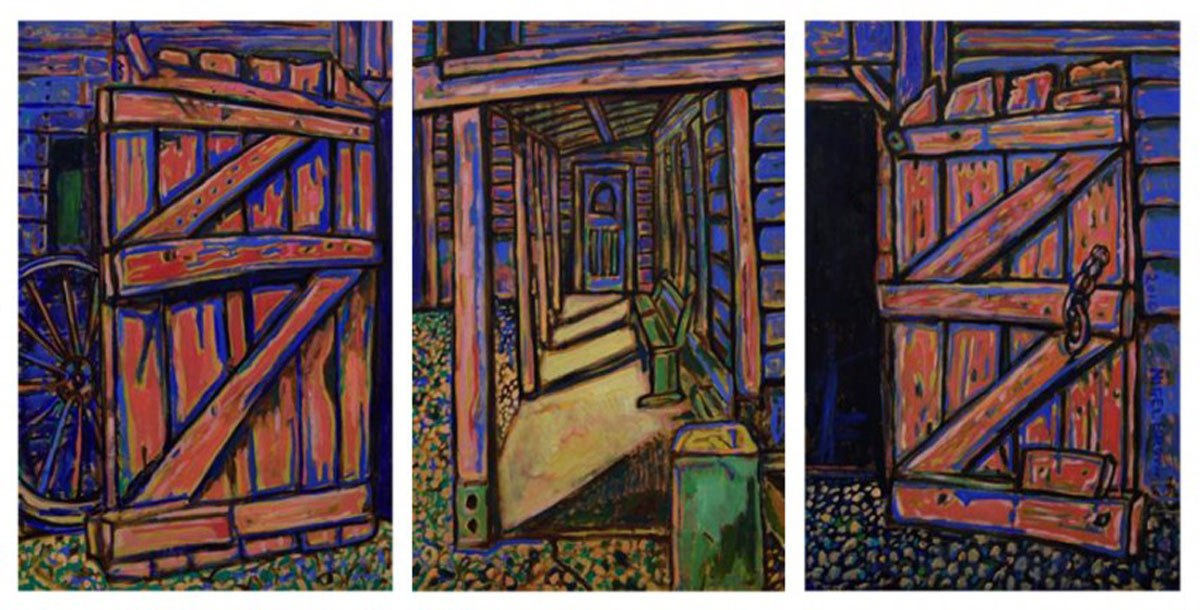 January 2013
Children Are Important
Nigel Brown's Children Are Important (2012) has co-won the Consumers of the Future poster competition run by the Adam Art Gallery & White Fungus magazine. Submitters were invited to respond to Prime Minister John Key's statement "Our children are important…they are the consumers of the future". The poster will be pressed and available through Adam Art Gallery, Wellington and downloadable to print, more details soon.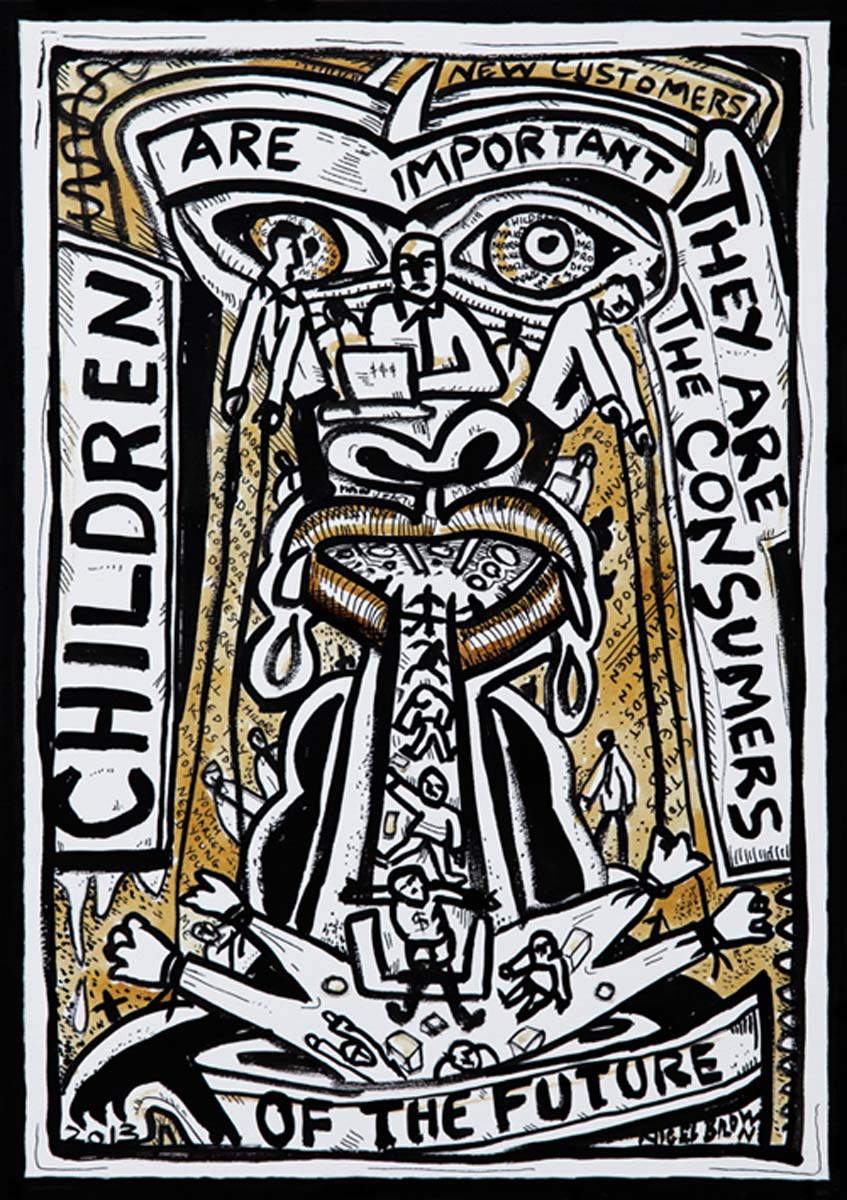 January 2013
On This Beautiful Morning
Nigel Brown's On This Beautiful Morning (2004) is part of ContainerART, an evolving series of works by New Zealand artists mounted on container crates in Christchurch. Beautiful Morning can be seen along Peacock's Gallop on Sumner's Main Road.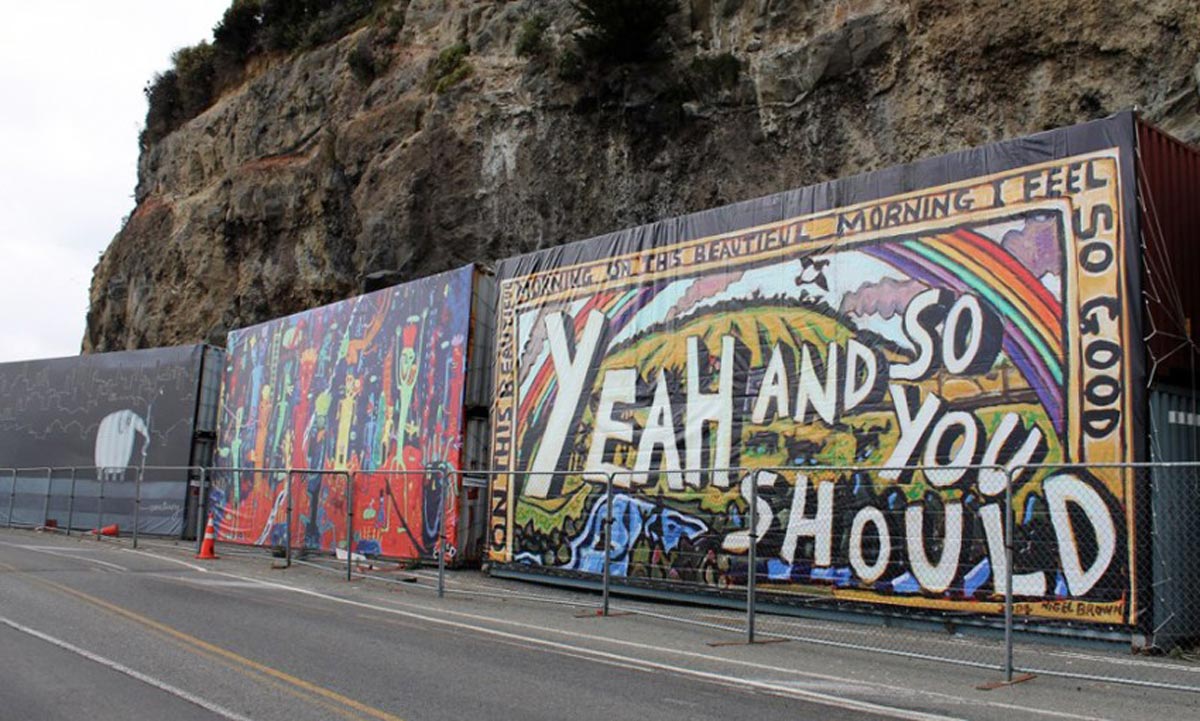 December 2012
After Australia
A couple of weeks away in Australia this November and one definite art experience was Pacific art and Aboriginal art in the Adelaide Museum but that's not to say new Aboriginal art doesn't interest me when it's got presence.
At the Art gallery of South Australia a show of prints by recently deceased Lidia Groblicka absorbed Sue and I. A consistent evolution and something to say politically. I suppose her evolution from Expressionism to something very tight to attack Corporate greed and defend the Environment contained a contradiction of sorts. The catalogue designer let her down we felt.
I kept finding Nolan just as exciting and authoritative ever in Adelaide and Sydney. You keep looking around and few compare.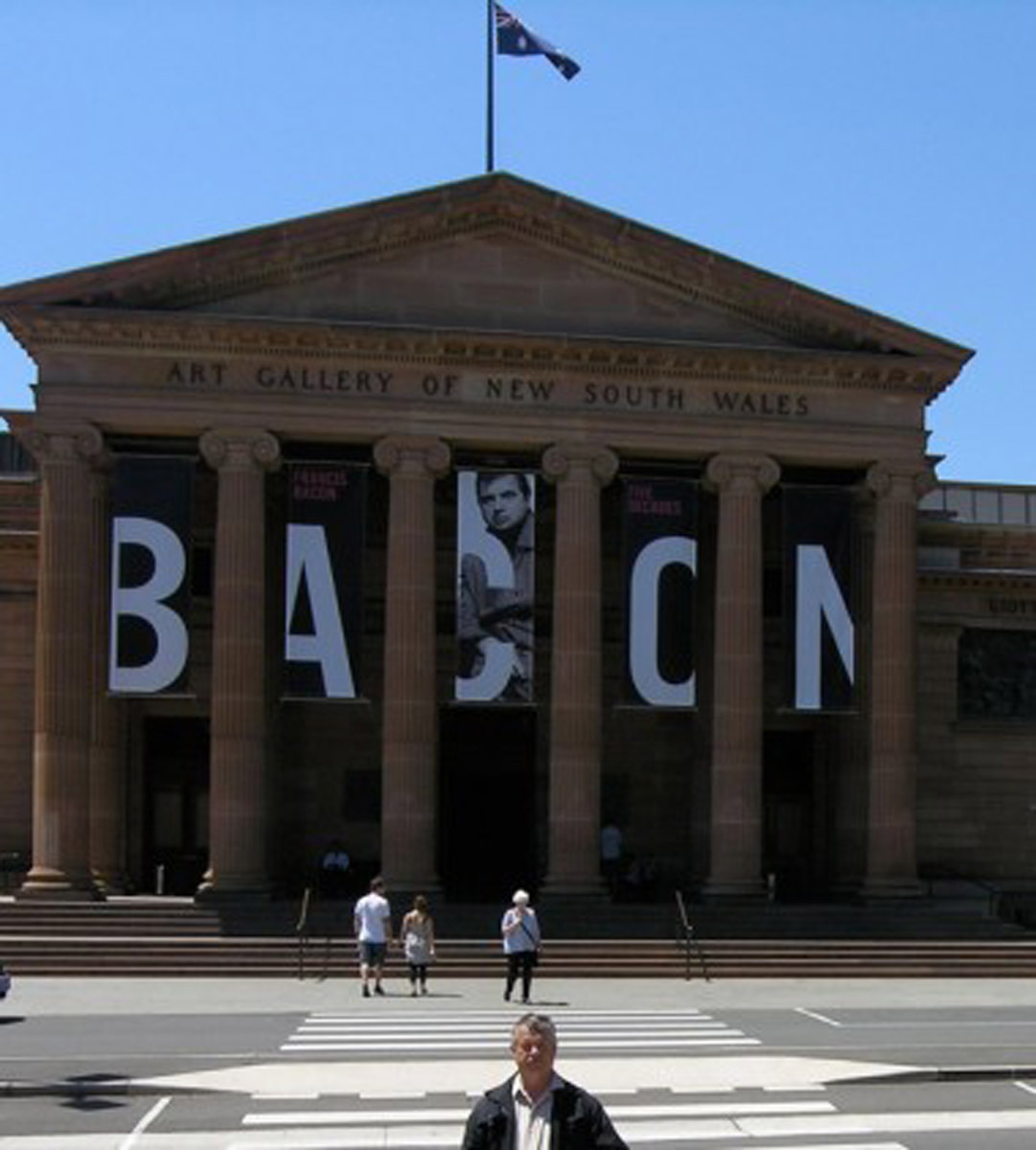 The five decades Francis Bacon show at the Gallery of New South Wales was impressive and seductive paint in the service of gritty ideas and courageous originality. While the show lacked the variety of a Picasso show at the same venue a year earlier and had a certain formulaic predictability its beauty and terror went deep into space beyond the succession of Marlborough Fine Arts frames. Almost as a healthy reflex I purchased a catalogue of the late works of Ian Fairweather as someone less acclaimed, dissected and lauded working in real Isolation.
Art I feel often depends on a few individuals to elevate it higher and these miraculous names burn brightly giving out so much energy. As I get older I am grateful for the enduring names but wonder how many others fall by the wayside or are buried by the art system and society.
There are also, as I was reminded by more earthy artefacts in The Adelaide Museum, cultures at odds with our massive cities that can hand make an enduring line of raw strength on their own terms. Sepik, Aboriginal, Fijian, Maori, Pacific and so on imprint graphic strength unique and earthy beyond the slick functionalism of our times.
Bacon and Nolan still offer something parallel to that which is raw and immediate.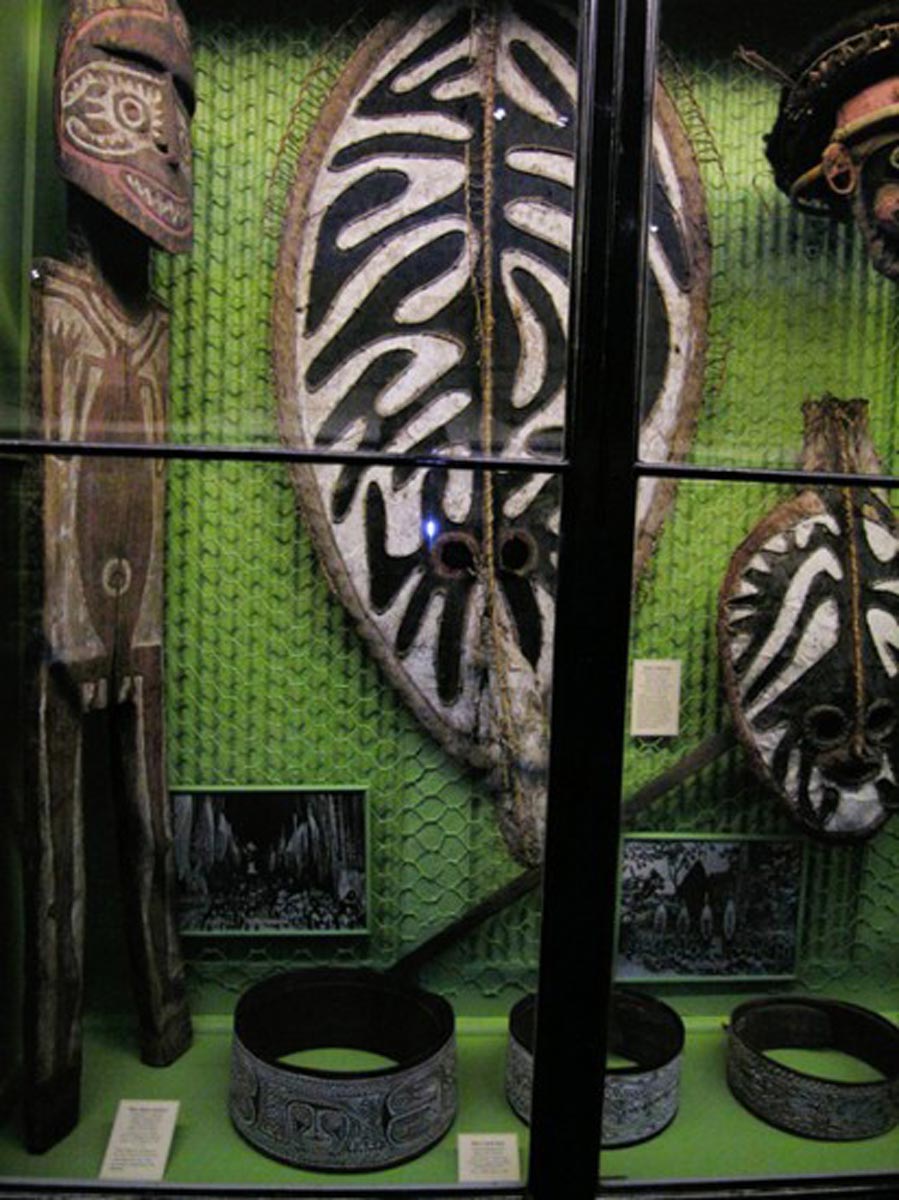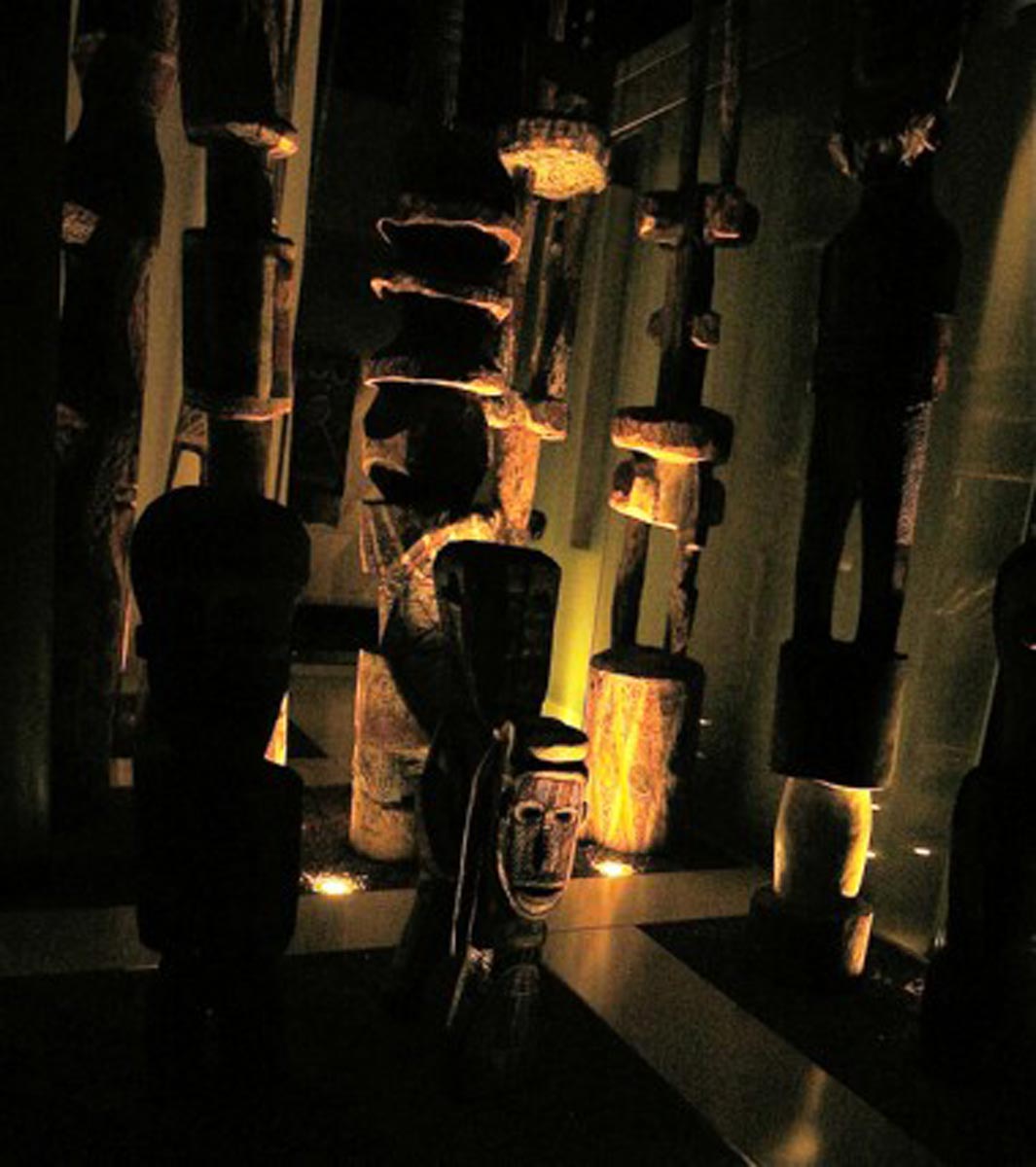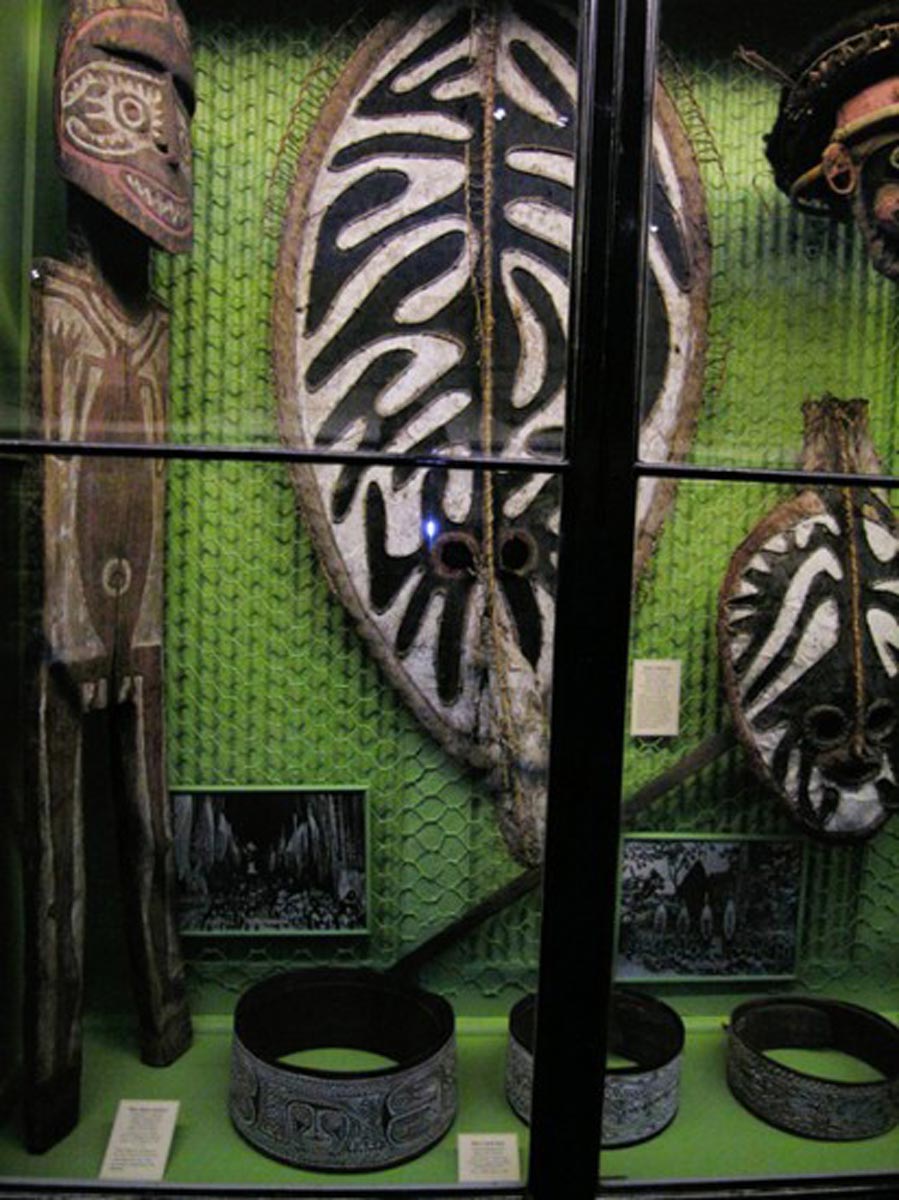 November 2012
Black Paper Works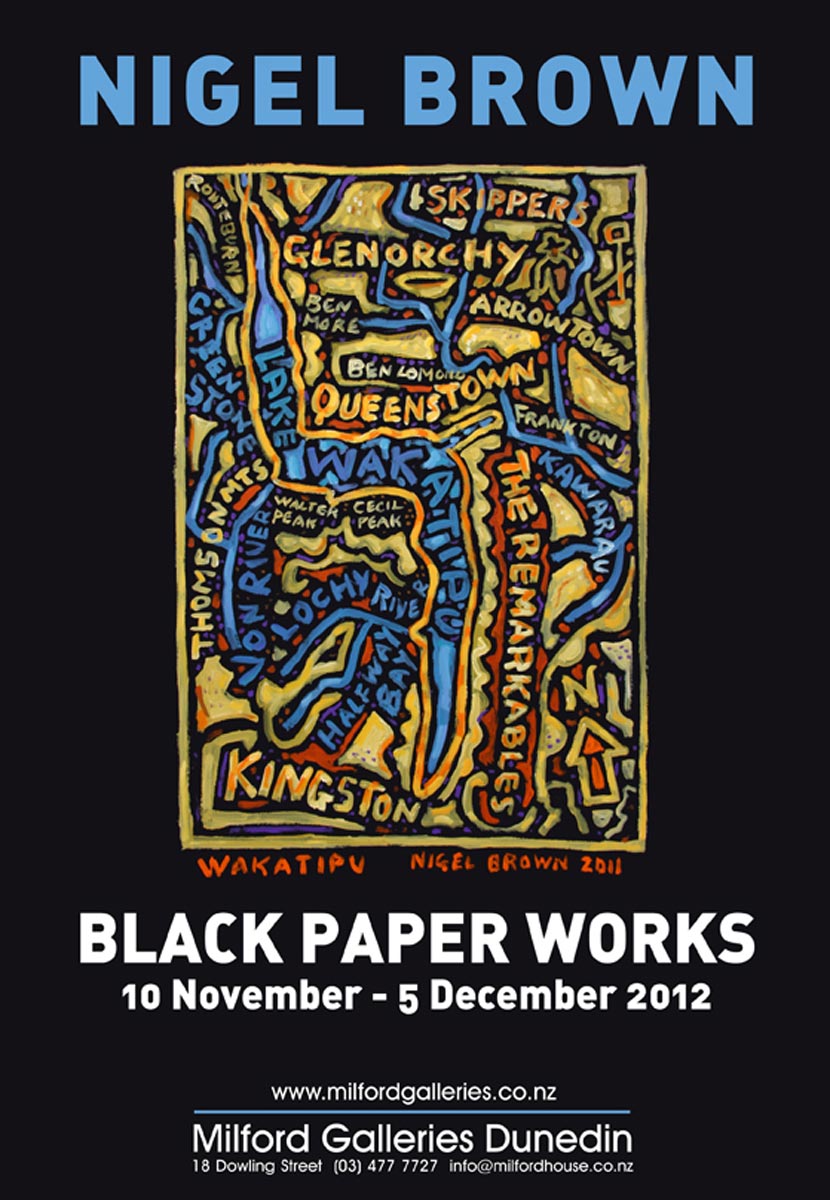 August 2012
Rotorua
Last month I travelled north to Auckland and Rotorua to attend openings and give talks, and enjoyed being involved in Sum of The Parts at the Depot in Devonport. It seems there are more motorways and congestion each time I go. I enjoyed the country around Rotorua with its ponga, steam and hills. Since childhood I've seen this area as quintessential New Zealand, particularly with the red of Maori carvings. Nowhere else has quite the same identity surge for me – not that many other places don't touch my heart, but never quite to the same degree.
When I was young my father on his hunting trips with us boys would drive through Rotorua and turn off at Rainbow Mountain with its array of earth colours, taking us on into the Urewera. These days Sue and my grandchildren Vita and Poppy are content to walk around Whakarewarewa in the warm knowledge that their ancestor Guide Sophia Hinerangi is buried in the misty vicinity.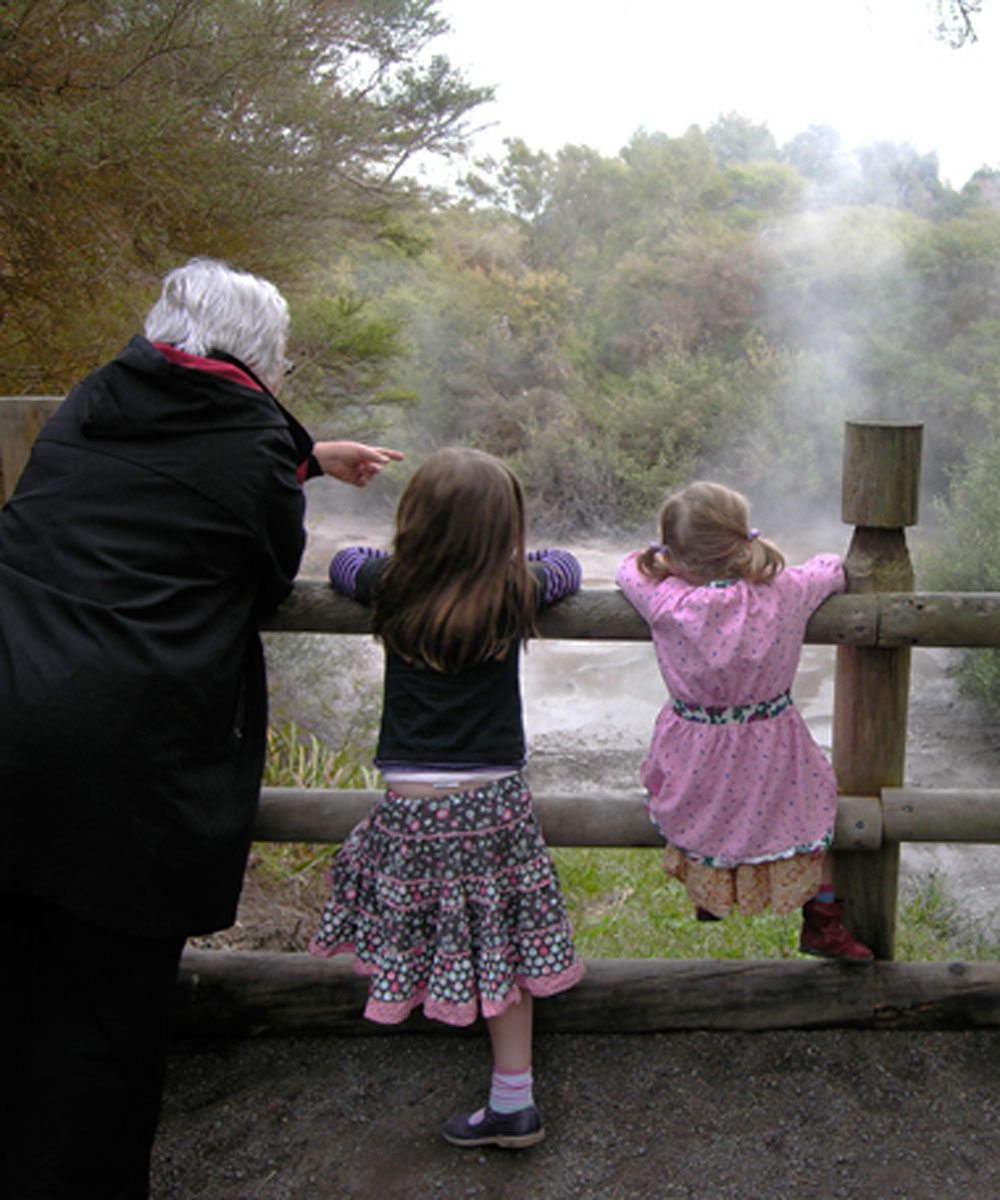 When my Aunt Myra died in my early teens, I inherited my first oils – photo oils – and an unused black and white photograph of the Rotorua Bath House (I tend to see that building as oddly out of place, although it must be the wood patterns that link it to Pacific design). Photo colouring, as much as I relate to it, also serves as a reminder of realist painting as deception. Give me a carving. Carving can be much more demanding on the brain but can also be easy to forget in our flickering age of photo image after photo image. Many paintings are not much more than tricks that the eye associates with so-called reality. I've come to respect more visual language that works with its strength and meaning on the heart and soul, and often where mimicry of appearances becomes secondary.
The current issue of Art New Zealand (#143) includes an article on identity in my work by Richard Wolfe.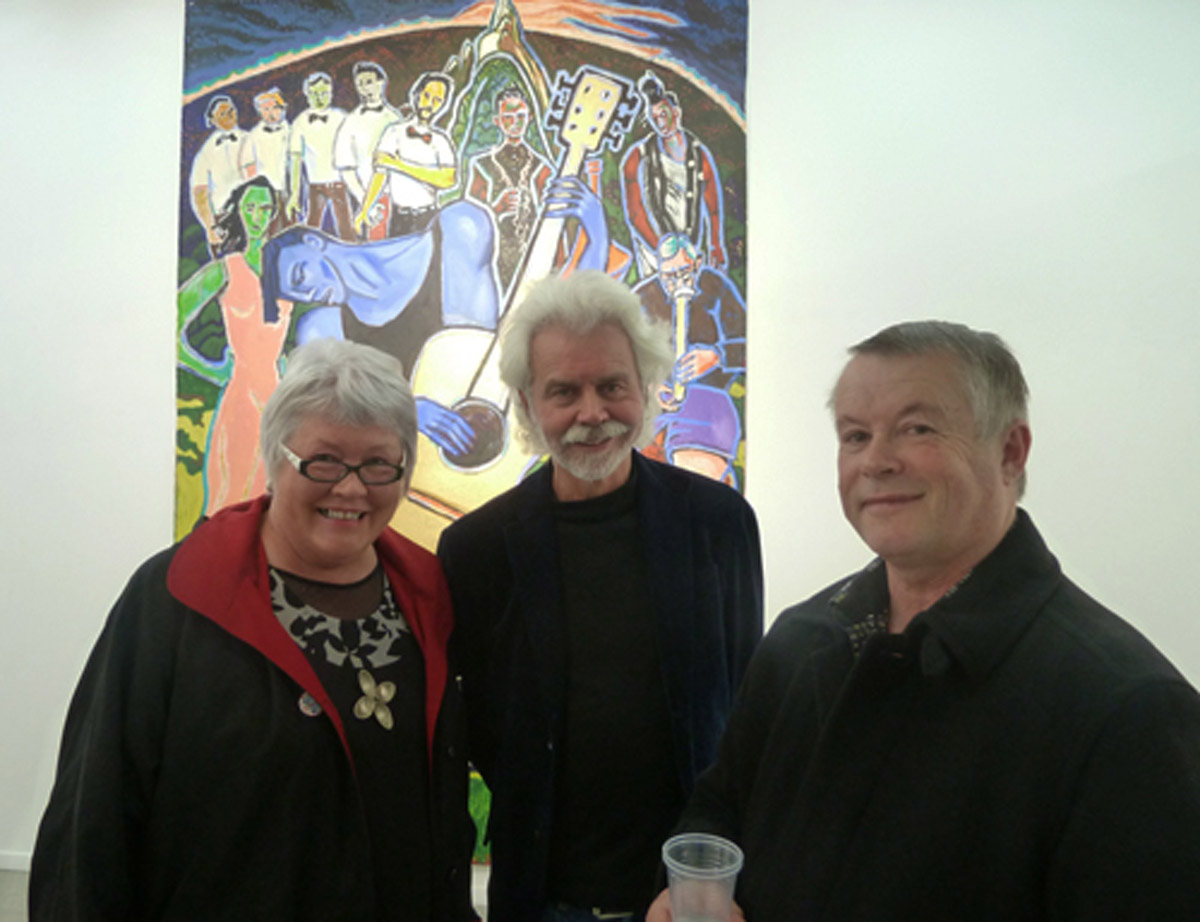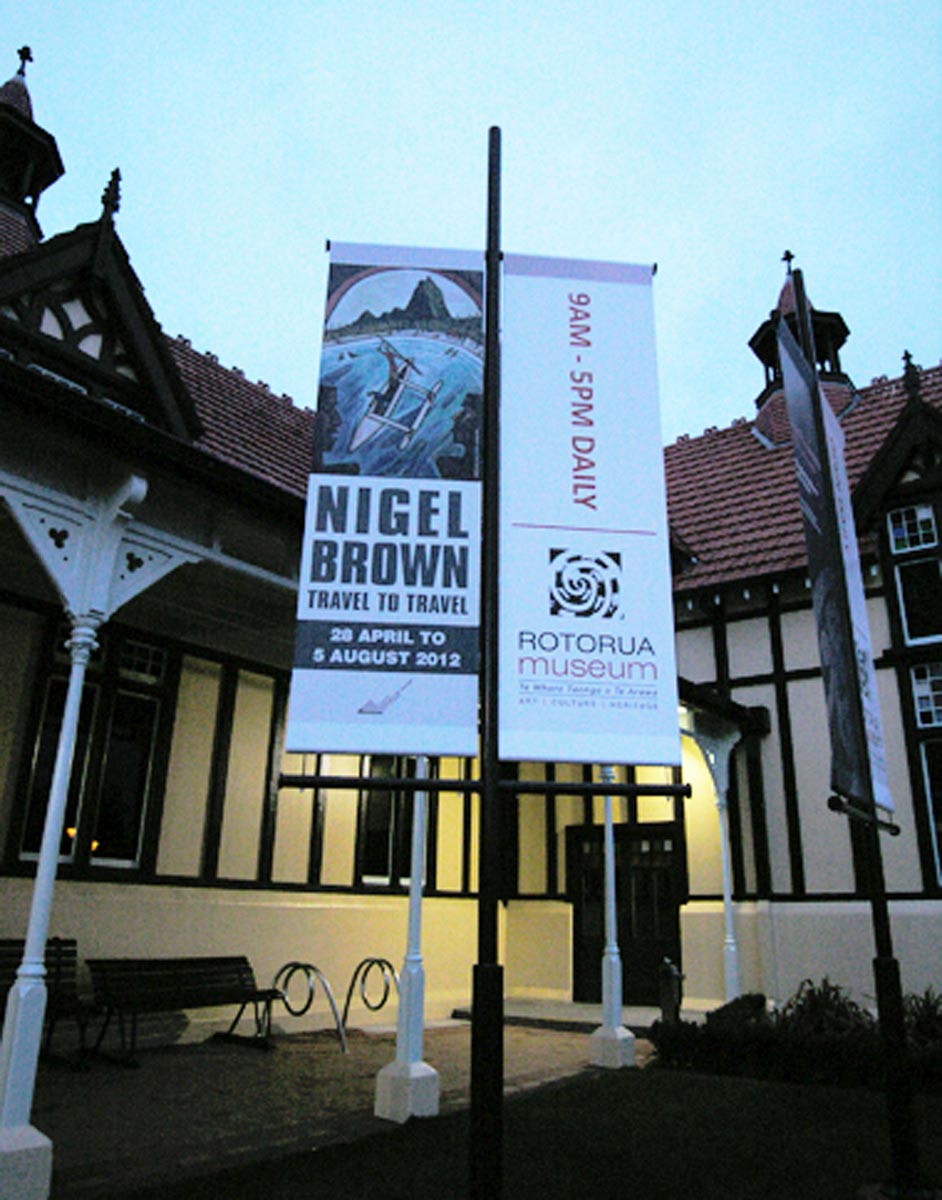 July 2012
Joe Taihape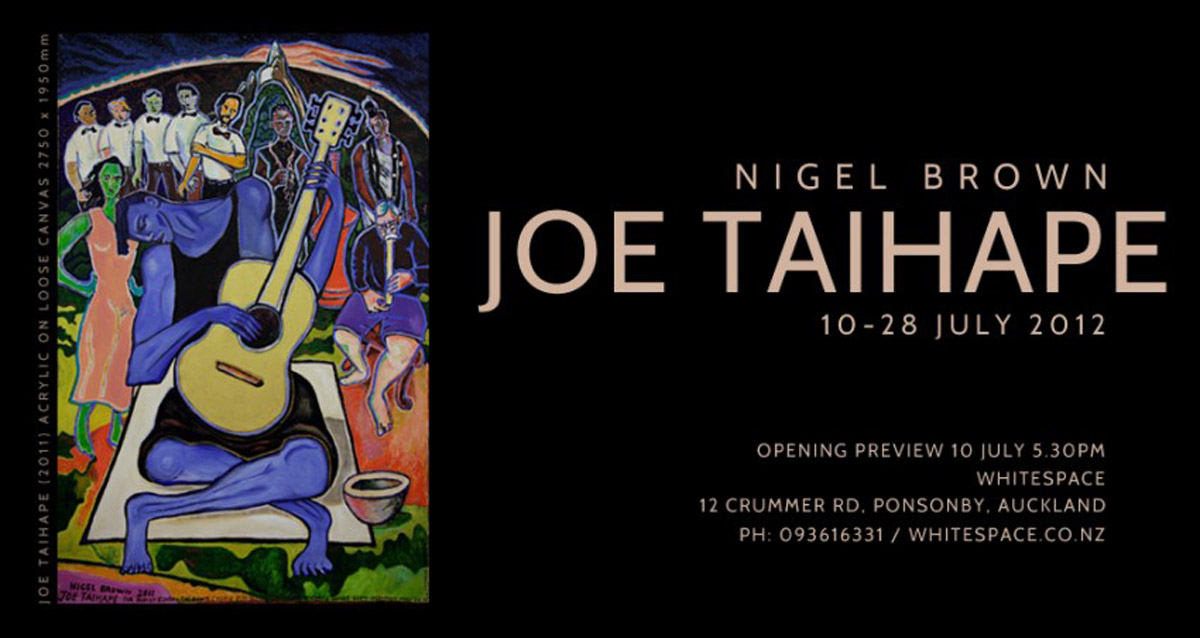 June 2012
Save TVNZ7
This week marks the last for the public broadcast television channel TVNZ7. I designed this badge for the Save TVNZ7 campaign – you can find out more about the campaign and support it by getting a badge here.

June 2012
Esmay
Last week we had to get our ageing highland cow called Esmay culled on our property. Here at Cosy we provided a full life for Esmay and the rest of the small herd – a life with some wild qualities.
Thinking of wildness, there is plenty of it here in the winter – firewood becomes almost an object of worship! Wildness is a quality I have always been drawn to since I was raised on an orchard and my father took me on hunting trips into the Urewera. Wildness is found in the bush, in the eyes of most animals – even close pets – in music, and as a projection of our attitudes and fears onto so-called people or creatures considered strange, primitive or dangerous.
I've always wanted to have an element of rawness in my work. Not hysteria or neurosis but a certain vigour and directness, and serious presence. Wildness implies a connection and reaction. It doesn't have to be chaotic but there must be a certain immediacy and engagement. Woodcut has attracted me for its bold graphic qualities, while as a painter I emerged in the 1970s in the time of Fomison and Clairmont, whose work had these qualities, as do Harris, Moffitt, Fahey and Pearson in different ways.
Wildness can include irony, words, emphasis, passion and strong forms. The opposite is the removed, polite and over-refined. These are only words, but I've found nourishment in the work of Picasso, Gauguin, Bratby, Munch and the German Expressionists. In life, I've found it in Pacific and Maori culture, Sue's gardens, rocks and trees, and Foveaux Strait.
While wildness is dear to me, so is Peace, and it's now twenty-five years since New Zealand declared itself nuclear-free. If you value wild natural environments, cultural diversity and colour, independent thinking and life force in all things, Peace and wildness are not contradictory.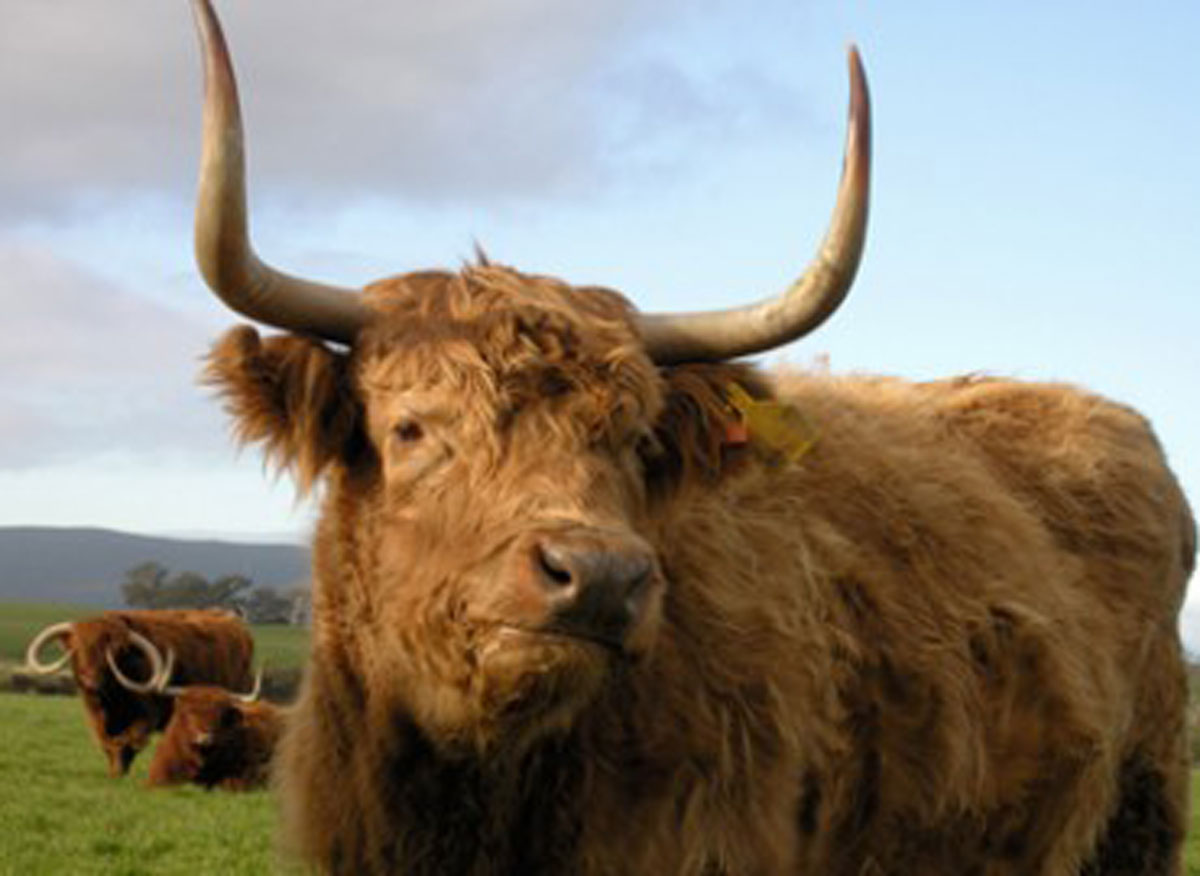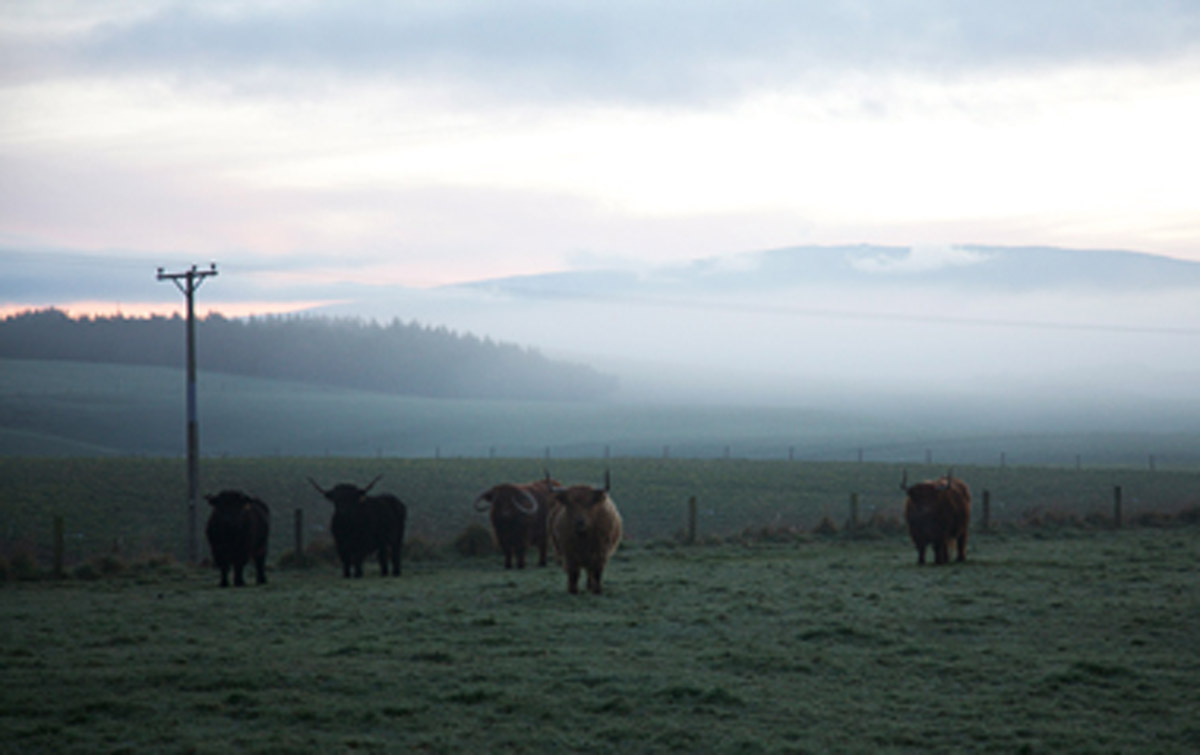 May 2012
Kia ora everyone, welcome
This is the opening entry for my new website that has evolved over the last year or two, with generous help from Josh Thomas and Dudley Benson who as whanau have been enormously helpful in ordering and sorting out work, filling in gaps, doing photography and making sense of it all…some forty years of painting and related activities and countless exhibitions. That has not been easy with much being pre-digital or not recorded at all, but it's hoped this site will give those interested in my work and ideas a clearer picture of my work – or rather a cross section of it all.
The fact that I've been able to eventually flourish in a relatively small country is not taken for granted by me, and I'd like to thank the many people who have given me support, be they writers, curators, dealers, collectors or just enthusiasts. Lastly but not least I thank my dearest partner Susan McLaughlin who has had to put up with all this sorting and clarification and occasional bewilderment!
Living now in Southland on a life style block by wild Foveaux Strait, I will be regularly updating this journal to share with you what I am up to and preoccupied with in this remote but beautiful end of nowhere.
Nigel
Cosy Nook